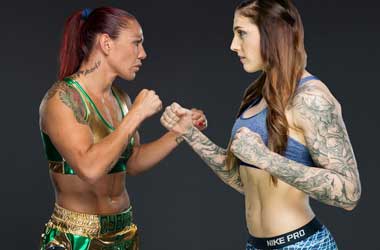 The UFC decided to strip Germaine de Randamie of her 145 pound feather weight title after she made it clear that she would not fight Cris Cyborg who was the number one contender.
Randamie won the title after she defeated Holy Holm and her first title defense was expected to be against Cyborg but since there was a cloud over Cyborg regarding her use of performance enhancing drugs, Randamie wasn't willing to step into the Octagon with her.
The UFC released a statement which said that they expect all their champions to be willing to defend their belts against top contenders in their division and since Randamie wasn't willing to do that, they were stripping her of the belt.
Randamie took to Instagram to voice her feelings stating that she heard the news from media outlets.
USA TODAY Sports
The former champion is expected to return to the 135 division and stated that although she was stripped of her title, she wouldn't allow the incident to be a setback for her. She also tried to defend herself stating that while some might believe she was scared to step into the Octagon with Cyborg, she had her reasons and chose to walk her own path and stand alone.
The UFC has now confirmed that Cyborg will fight Australia's Megan Anderson in the co-main event at UFC 214 for the 145 pound belt. UFC 214 is scheduled to take place on July 29 in California and the main event will be Daniel Cormier vs. Jon Jones 2.
Megan Anderson is the reigning featherweight champion in Invicta FC and has been campaigning hard to get booked by the UFC. The UFC has only recently created the women's 145 pound division and needs to bring in more female fighters who are used to fighting in this weight category. Cyborg will enter UFC 214 as the favorite but Anderson will not be an easy fight for her.
The Australian fighter turned pro in 2013 and now lives in Kansas. The 27 year old has an 8-2 record in MMA and took to social media to say that she was excited to get the opportunity to fight in the UFC and take on Cyborg in her debut. Anderson stated that she was confident of putting up a show for the fans and believes that when the fight is over, the belt will be around her waist.