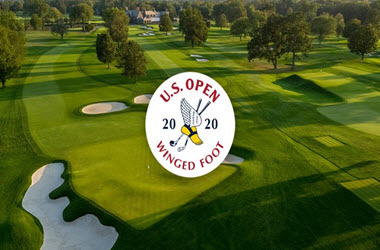 As the COVID-19 virus continues to run rampant in the United States, the U.S. Open is another major sports event that has been postponed and will be looking to reschedule at a later day according to Bob Weeks, a journalist with the New York Post.
The article in the Post said that the Winged Foot Golf Club in Mamaroneck, N.Y, the site hosting the U.S. Open has advised tournament officials that is will not host the event slated for June 18th to the 21st citing concerns over COVID-19 and its responsibility towards reducing its spread.
The United States Golf Association has not officially announced the Open's postponement but did state that it was in discussions on how to proceed with the event. The USGA stated that:
"We continue to hold the dates for the U.S. Open at Winged Foot in June and monitor all available guidance and regulations from the CDC, who and other Federal state and local authorities to do what is in the best interests of the community for the health and safety of all those involved. Given that the postponement could be a possibility, we are creating contingency plans should we need to pivot. It is premature at this point to speculate on any potential date or location chances, but we expect to make a decision sometime in the middle of April"
All preparation for the U.S. Open came to a stop after New York deemed all non-essential business to close, which included Winged Foot. This brought the construction of its Grand Stand to a halt as it did the construction of its and corporate tent construction. This also has impacted the Masters and entire PGA Championship with events through to May all having been cancelled.
Golf Channel
The RBC Canadian Open, which was due to take place the week before the U.S. Open in Toronto, Canada has also been cancelled as Canada ordered all non-essential business to close and released an economic package to assists business impacted by the COVID-19 outbreak.
The same issues hitting the PGA have had an effect on the LPGA who announced it was changing the dates the Evian Championship with it not slated to take place in August. This will see a busy schedule in women's and men's golf unless additional postponements are announced. The LPGA also postponed the AIG Women's British Open in August and the ANA Inspiration in September.
2020 Wimbledon Up in the Air
The 2020 Wimbledon tournament held at the All England Lawn Tennis & Croquet Club is up in the air after the club stated that it is continuing to evaluate all possible scenarios. This includes postponing the tournament or outright cancelling it due to the current state in the U.K relating to the COVID-19 outbreak.
The All England Lawn Tennis & Croquet Club stated that is will have an emergency meeting this week and have spoken with the International Tennis Federation, the WTA, ATP, the Lawn Tennis Association and others about the situation. They further stated that the event will not go on without fans as this simply is not a viable option. Commenting, the All England Lawn Tennis & Croquet Club stated,
"At this time, based on the advice we have received from the public health authorities, the very short window available to us to stage The Championships due to the nature of our surface suggests that postponement is not without significant risk and difficulty. Playing behind closed doors has been formally ruled out."
The Chief Executive of the All England Lawn Tennis & Croquet Club, Richard Lewis stated in a press release that,
"The unprecedented challenge presented by the COVID-19 crisis continues to affect our way of life in ways that we could not have imagined, and our thoughts are with all those affected in the UK and around the world." He added, "We are working hard to bring certainty to our plans for 2020 and have convened an emergency meeting of the AELTC Main Board for next week, at which a decision will be made."