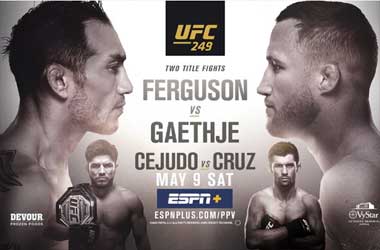 Ultimate Fighting Championship president, Dana White announced that the U.F.C. will be holding no less than three events in May in the state of Florida after receiving permission from elected officials and state regulators.
The three events will be the first for the U.F.C. after the shutdown relating to COVID-19. The scheduled events are set to take place on the 9th, 13th and 16th off May and will be held in Jacksonville at the VyStar Veterans Memorial Arena. It is expected that bookmakers such as Sports Interaction and bet365 will be covering these events and offering bettors the opportunity to once again bet on their favourite U.F.C. fighters.
The first of those will see Tony Ferguson and Justin Gaethje headlining the pay-per-view event, while other fights for the Florida State Boxing Commission sanctioned event has yet to be announced but will be held without fans in attendance.
Dana White has faced mounting problems throughout the coronavirus pandemic trying to find locations where the U.F.C. can hold events. State governments and officials throughout the world have stay-at-home orders that apply to all those who are not essential workers, and that resulted in UFC 249, which was slated to be held on an Indian reserve in California to be cancelled after ESPN expressed concerns.
MMAFightingonSBN
ESPN, which is owned by Disney, pays hundreds of millions in broadcasting rights to the U.F.C. annually put pressure on the U.F.C. to call off the event after they and White received calls from the highest level at ESPN and Disney asking he cancel the event.
However, the U.F.C. have since been welcomed by the state of Florida after its director of the Division of Emergency Management added "employees at a professional sports and media production with a national audience." This opened the door for the U.F.C. to begin holding events in the state as it has the WWE.
With Florida's boxing commission as well as local and state governments, any concerns for ESPN were removed from the table, especially after seeing its viewership dropping during the pandemic. In a released statement the sports broadcaster stated,
"We look forward to bringing U.F.C. to fans again."
Dana White has been adamant that the U.F.C. can hold safe events but has failed to offer any details in how it will do so. He has yet to state whether the organization will test its fighters or other personnel or what would happen should a fighter become infect. White, who refused to answer this when questioned on Friday by ESPN whether fighters would be tested stated,
"We are going to spend a lot of money to make sure the people are safe."
White also conducted an interview on Instagram saying that they were still hoping to book another event for the 23rd and is hoping that they can hold events on a private island that is outside U.S. control but offered no details. White and the U.F.C, who are charging $100 for the pay-per-view event are doing so at a time when fans are stretched to the limit financially. This is a time when the U.F.C. could have shown fan appreciation with a discounted price to allow them to enjoy the fight without adding pressure to their finances.
The problem is and remains, White refuses to give any details on how he or the U.F.C. will accomplish that, and for fighters, it is creating an unwelcoming feeling and lack of trust and faith in Whites leadership. It comes at a time when many fighters are increasingly becoming disillusioned by the pay inequality that exists within the U.F.C. White did comment when pushed by ESPN that,
"We are going to spend a lot of money to make sure the people are safe."
The Association of Ringside Physicians is not on board with the recent changes by Florida that will allow fights to take place feels noted that several fighters that were slated for UFC 249 have tested positive for the virus. One of those Lyman Good exited the event for an injury that was unspecified but later revealed he tested positive for the virus. In addition, strawweight Rose Namajunas also cancelled her appearance before learning the event had been cancelled after she learned two of her family members passed away from coronavirus related issues.
It is expected that fighters will be in for a few surprises after Whites continued refusal to provide any details about the event. Headliner Tony Ferguson revealed he didn't even receive a call from White or the U.F.C. when they chose to cancel UFC 249 and instead heard of it online. Commenting, Ferguson stated,
"Man, it's very hard as a fighter to find out information on the internet, but that's essentially how I find out everything. Emotionally, as a fighter, it's very hard to cope with. It's hard to turn it on, and it's hard to turn it off."