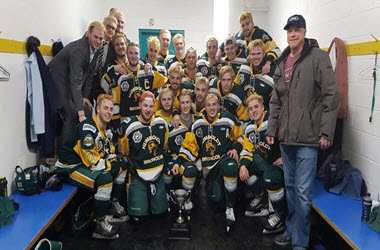 Tragedy has struck Canadian hockey as news of a devastating bus crash involving the Humboldt Broncos while on-route to play in the fifth game of the semi-final playoffs.
The crash killed fourteen players and injured fourteen others after a transport truck broadsided the bus. The Humboldt Broncos bus was carrying twenty-eight people, including the driver when hit on Highway 35 just north of Tisdale.
In a news release on Saturday, the RCMP stated,
"We can now confirm fourteen people have died as a result of this collision. The other fourteen people were sent to hospital with a variety of injuries; three of these people have injuries that are critical in nature."
The victims' names were not released by the RCMP and information about whether those dead were coaches or players was also not mentioned, nor information about the driver. At this point of the investigation, it is unknown who was at fault or if this was simply a tragic accident.
The President of the Humboldt Broncos commented that parents of the injured and of those who were killed are on route while trying to cope with the tragedy. He stated,
"It's one of the hardest days of my life. There have been multiple fatalities — our whole community is in shock, we are grieving and we will continue to grieve throughout this ordeal as we try to work toward supporting each other."
Regina Leader Post
Garinger added that the team included players that were from Edmonton, Manitoba and Saskatchewan. One of the parents of one of those injured, Michelle Straschnitzki, stated that Ryan, her son was being treated in a Saskatoon hospital. She mentioned that the family would be rushing to Saskatoon on Saturday and that his injuries were serious.
"We talked to him, but he said he couldn't feel his lower extremities so I don't know what's going on. She added, I am freaking out. I am so sad for all of the teammates and I am losing my mind."
The Humboldt team were on their way to play the fifth game in semi-final action against the Nipawin Hawks. The president of Nipawin, Darren Opp said that a transport truck t-boned the bus carrying the players. He added that players from the Hawks and the coaching staff were waiting to help in any way possible, commenting that,
"It's a horrible accident, my God. It's very, very bad. They are sitting in the church just waiting to hear any good news. I've got 50 phone calls at least saying what do you want? There's uncles and moms and dads waiting to hear whether their sons and nephews are OK. It's terrible. It's absolutely terrible."
The pastor of the Nipawin Apostolic Church, Jordan Gadsby stated that over 100 hundred people in the community have come to the church, some of who
were related to the players on the bus.
Gadsby commented that,
"Lots of them are waiting for information," he said. "Some of the families have gotten information and have gone to be with their kids. Some of them are waiting to hear if their kids are alive."
Kevin Garinger mentioned that the team was close and from a small town just over 100 kilometres east of Saskatoon. He added that the each of the players were fine young men and a rock for the community. Garinger billeted one of the players and has yet to learn if he is one of those who were killed in the accident.
He commented that all the community could do is pray while waiting to find out more information and help player families in any way possible. He stated that,
"We don't know who has passed and we don't expect to know right away," he said. "We know that the coroner and their office needs to do their work and let families know. We just need to try to support each other as we deal with this incredible loss to our community, to our province, to our hockey world."
The Premier of Saskatchewan, Scott Moe, upon being informed of the accident stated that this accident was tough to comprehend adding,
"To the City of Humboldt, the entire Broncos organization, and the families impacted by this tragedy, please know you are in Saskatchewan's hearts. From a grieving province, thank you to every one of the first responders and medical professionals for your courageous response under the most difficult circumstances imaginable. Tonight, we all must pray for these families."
The Saskatchewan Junior Hockey League is a member of the Canadian Junior Hockey League and it those who are born in North American and age 16 to 20 are qualified to play in the league. Canada and Betting.ca share in the sorrow and compassion towards the victims of this tragedy and send thoughts and prayers to loved ones as they struggle over their loss.