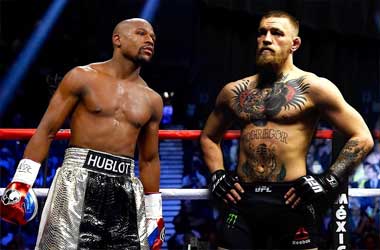 The 'money' fight between Floyd Mayweather and Conor McGregor has received enormous attention on social media and Mayweather promotions is set to hype the fight even more with a 4 city promotional tour. The first presser took place at the Staplers Center in Los Angeles, California on July 11 and MMA fans would have been surprised to see Mayweather dominate McGregor at the press conference.
The 'Notorious' Conor McGregor was expected to play mind games with Mayweather during these press conferences but at the Staples Center it was all Mayweather, primarily because McGregor wasn't aware that he had to give a speech and wasn't prepared – Mayweather was!
UFC President Dana White had specifically requested for Toronto to be one of the cities for the press conference as many MMA fans consider it to be the MMA fight capital.
Canada is also home to a huge migrant Irish population and they will no doubt show up in full strength to support Conor McGregor. There is also no doubt that McGregor will be better prepared to take on Floyd at the Sony Centre for Performing Arts on July 12.
SHOWTIME Sports
Dana White announced that they had initially change venues in Toronto in order to accommodate the number of fans who wanted to turn up for the press conference. Conor McGregor turned up in a flashy suit at the Staples Center while Floyd Mayweather chose to dress down and turn up in a track suit – something which McGregor pointed out and laughed at.
McGregor will undoubtedly be dressed to kill as he always is at the Sony Centre but it will be interesting to see if Mayweather yields to those taunts and shows up in a 3 piece suit. McGregor did not do well in terms of outclassing Mayweather on the mike at the Staples Center but what McGregor did do well was promote his own company and his branded suit.
Floyd's decision to dress like he was in the hood was in line with his character as he is playing the heel and recognizes that the crowd support at all the press conferences is most likely going to be in favor of McGregor who is the underdog with the bookies. The two remaining press conferences will take place at the Barclays Center in New York on July 13 and the final conference will take place on July 14 at the Wembley Stadium in England.