Toronto Raptors Win Their First NBA Championship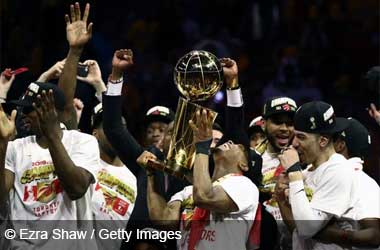 "You have fans that have been around for 24 years and you have fans that have been around for two weeks. Everyone's coming together and they're having a good time. That's all that really matters," said Sara MacLennan-Nobrega, a self-identified 'bandwagon fan'. "It doesn't matter if you're new – you're here to support the team. And that's about it." "All throughout the playoffs, the energy … kept getting stronger from when we first made [the finals], to even when we lost [Games 2 and 5]. I feel that everyone's just been so positive," said Mark Browne, a lifelong Toronto resident. "I can tell my kids, when they get older, that I was around and witnessed history."
Those words stem from a report by The Guardian, with NPR and many, many more also reporting on what was one of the most famous evenings in the history of Canadian sports last night. In case you've been living under a rock for the last few weeks, allow us to explain: the Toronto Raptors are the NBA champions for the first time after defeating the Golden State Warriors 4-2 in the 2019 NBA Finals.
Getting it done
It still feels like a dream for a lot of Canadian sports fans, but it's true. The Raptors began this season as a team to watch, but it's safe to say that people were still favouring the Warriors to be the ones to go all the way and win the title once again. After all, it has become something of a routine for them at this stage to reach the Finals, and it has become even more of a routine for them to win it.
However, off the back of key injuries to the likes of Kevin Durant and Klay Thompson, Steph Curry just wasn't able to take them that extra mile on this occasion. They've tasted defeat at this point of the season before, but this one will still sting.
The next level
Two names that have really been able to shine through in Toronto's hour of need are Kyle Lowry and Kawhi Leonard. Both men have been able to take this team to heights that were previously thought impossible, and yet, here we are. As the first quote suggests you don't even need to have been a dedicated fan for years and years to appreciate this win, because that's the beauty of sports. Sure, you get bandwagon fans here and there, but the important thing is that the city of Toronto deserves a moment on this scale.
This is their first championship, and there is never going to be one that tastes quite as sweet as this. Some have suggested they don't have the power and skill required to keep pushing forward and create a dynasty, but of course, they've been underestimated before. They thrive on being seen as the underdogs, because it gives them the chance to prove everyone wrong all over again.
For now, though, the Raptors will be known as one thing and one thing only: champions of the world. Go and enjoy it, folks.