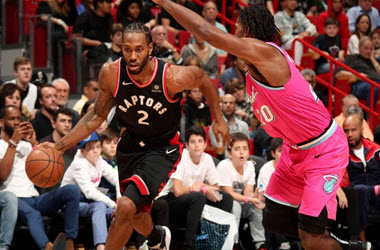 The Toronto Raptors were trailing last night against the Miami Heat, but late in the fourth staged a comeback and it was one that saw Miami feeling the heat as the Raptors pulled off a 106-104 victory.
As the final seconds of the fourth quarter ticked away, Miami was up 104–103, but with 23 seconds remaining, Danny Green slipped through the defence to bag a three pointer and made Miami pay for not paying attention.
Pascal Siakim scored 10 points last night in 34 minutes of play time, Fred Van Vleet bagged 16, Danny Green 18 and Kawhi Leonard scored 30. Last night's win put Toronto at the top of the Eastern Conference standings with 26 wins and 10 losses.
With Toronto atop the Eastern Conference, sports punters can have confidence that leading sportsbooks such 888Sport as will have favourable odds for the Raptors and will up to $250 in signup bonuses, those interested in placing bets will enjoy a boost to their bankroll when making their first deposit.
Last night was also the third time the Raptors have come back late when behind by 15 or more points during the fourth quarter. Commenting on their success, Fred Van Vleet said,
"We've always got a chance to come back"
The fourth quarter went back and forth with the Miami Heat and Toronto Raptors exchanging the lead twelve times. Miami's Justise Winslow and Dwayne Wade missed three pointer attempts during their last possession, and that cost them the game.
FoxSports
Dwayne Wade commenting after the game put the blame on himself for leaving Green open stating,
"I'm not mad at the loss. I'm mad at the way I played. You're going to lose games in this league. That's fine. We've been playing good basketball and we played some good basketball today. … Losses are going to happen. It's the way you bounce back from them and the last few times we've had losses we've bounced back pretty well."
Justice Winslow scored 21 points for the Heat last night, Josh Richardson scored 17 and Hassan Whiteside 16 closed out Miami's top scorers. Also having a solid performance was Tyler and James Johnson with each scoring 12 points.
It was Winslow that put Miami into the lead by one point going into the final countdown, but as Toronto took possession, it was Danny Green who found himself alone in what was almost a reply of when Green bagged a three pointer in the NBA final against San Antonio in 2013. Green took the shot with second remaining and that put Toronto ahead by three.
The Heat were dominating by the halfway point, up by 14 and increased that to 17 early into the third quarter, and that seemed to energise the Raptors who went on an aggressive charge to shorten the lead down to 81-79 after Van Fleet scored three 3 pointers.
As the fourth quarter began, both teams fought to take control going back and forth 14 times and it wasn't until the final seconds that the game was decided giving fans a Boxing day show few have seen in recent memory.
Coach for the Miami Heat, Erik Spoelstra commented on the night saying,
"There's some really good things going on, and it was a great basketball game … through 47 minutes."
The Raptors will now head to Florida to play the Orlando Magic on Friday before returning to Toronto to welcome the Chicago Bulls on Sunday. Miami will welcome the Cav's on Friday and the Minnesota Timberwolves on Sunday.