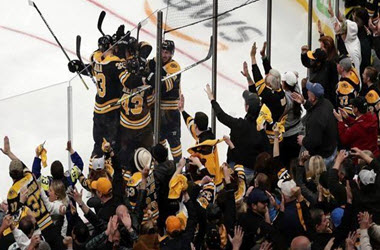 The Maple Leafs started strong in Game 6, but somewhere towards the end, seemed to lose their way and are now heading back to Boston for a Game 7 showdown against the Bruins.
Toronto had the chance to eliminate the Boston Bruins on Sunday but failed to do so and instead, gave up an early one goal lead and lost 4-2. That loss cost them dearly, and now all that is left is a plane trip back to Boston for a do or die Game 7, and for Toronto, it is not looking favourable. Commenting on the Sunday night game, coach Mike Babcock said,
"I thought we were really ready, we were jumping, big time, and then as soon as we had a little adversity, and they scored twice, we didn't recover. I don't know if that's the emotions got the best of us, but we couldn't get it back in check."
This is yet another lost opportunity for Toronto to prove themselves and the second time in this series that saw the Leafs struggling for a period that saw them hustling trying to recover. Auston Matthews and Morgan Rielly scored for Toronto, Travis Dermott, Jake Gardiner, Patrick Marleau and William Nylander had assists, and Frederik Anderson stopped 37 shots.
Sportsnet
The Toronto Maple Leafs may have scored the opening goal but the lead was short lived after Boston went on two power plays inside of six minutes, capitalised on each and took over the lead and they kept it. Boston's Brad Marchand was superb scoring two goals and earning an assists, Jake DeBrusk and Torey Krug both scored and assists were awarded to David Pastrnak, Zdeno Chara, David Krejci and Charlie McAvoy.
Auston Matthews, who scored one of the two goals for Toronto commented post-game that suddenly Boston was up 2-1 and had momentum. Matthews added,
"I thought we got in our own way. They were forechecking pretty hard and we weren't able to breakout cleanly there kind of midway through the game."
There was little doubt that Boston dominated Toronto all night and as usual, the boys in boy failed to outplay, outwit and outmanoeuvre the Bruins. Boston outshot the Leafs in each period and earned their win the hard win. The lack of focus cost Toronto dearly, and that was noted by Mike Babcock, who said,
"I thought they had one of the best periods they had all playoffs in the second period. We didn't play fast enough or execute. We weren't as good as we could have been for a stretch of 30 minutes there. They skated way better than we did, and that doesn't happen to us very often."
Even though the Leafs retired to the dressing room after the second period to try to figure out how to win the game and Matthews scored in the second to give them life, it seemed they simply were unable to control the strong, powerful line of Marchand and friends. It was one that Babcock noted in post-game interviews commenting that,
"I thought we got going a bit in the third period, but in the end I thought this was the best game [Boston's] played and I didn't think we were as good as we could be."
Sports pundits have taken notice, and that is evident with leading sportsbooks who are not favouring the Maple Leafs to advance. However, with other series offering excellent opportunities, and Game 7 of the Boston/Toronto series playing out on Tuesday night, registering with one of our recommended sportsbooks is ideal as the second round of the playoffs gets underway next week.