Leafs Ex-GM Keeps Quiet On Sacking Reasons In First Statement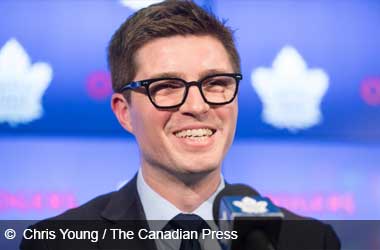 Summary
Maple Leafs decided to fire GM Kyle Dubas after second round playoff exit
Dubas released a statement on Twitter but did not take any pot shots
Dubas will look to spend more time with his family now
When the Toronto Maple Leafs lost during the second round playoffs, there was a lot of pressure on General Manager Kyle Dubas who had served as GM from 2018. Prior to becoming GM, he served as assistant GM with the Leafs from 2014.
When reporters asked Dubas if he would continue in his position as GM, he said he was unsure at the time. Maple Leafs President Brendan Shanahan initially said that he was open to having Dubas continue as GM but a few days later changed his mind and decided to give Dubas his walking papers.
There were a lot of strange events that unfolded in the few days leading up to Dubas's sacking and hockey fans were keen on finding out what exactly happened. 
Dubas Releases Statement On Twitter
Dubas finally released a statement on Twitter to explain his sacking but did not go into great detail. 
Dubas said in his tweet
While I understand there is interest surrounding the circumstances of my departure, I will not get into specifics of what I consider to be reasonable and consistent but private discussions

In the days that I felt I needed to assess and evaluate my own view to the future, both with respect to the necessary direction of the Club and ensuring that I had the full support of my family for what I knew would be required in the offseason and years to follow, the organization, as is their right to do, decided to go in a different direction.
Dubas ended up by thanking staff, coaches and players at the Leafs for their commitment and passion over the years and said it was a great pleasure to work with all of them. Dubas did not mention Shanahan's name or take any pot shots at anyone in his statement.
Dubas Will Spend More Time With His Family
The 37 year old Dubas also mentioned his family multiple times in his statement and spoke about how his family has doubled in size during his time with the NHL team. His Twitter bio now reads 'Husband and Dad' and he signed of his statement on Twitter as The Dubas Family.