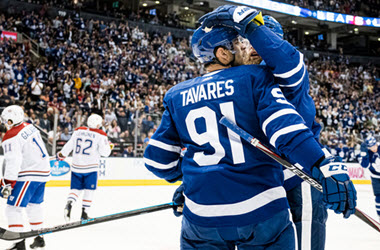 The Toronto Maple Leafs welcomed the Montreal Canadiens for a pre-season game on Wednesday night, and amid controversy over a disorderly conduct charge, Austin Matthews scored to help lead the Leafs to a 3-0 victory over Montreal.
Frederik Andersen, who has only allowed one goal in seven pre-season periods, was in fine form saving 26 shots while Trevor Moore and John Tavares each scored one apiece. Earning assists were Mitch Marner with two and Trevor Moore, Morgan Rielly and Rasmus, Sandin earned assists.
It was only 24 hours earlier that news was released about the charges of disruptive behaviour and disorderly conduct were laid against Matthews in an incident in May in Scottsdale, Arizona, his hometown. Matthews released a short statement about the charges but refused to answer any questions.
The Maple Leafs kept Montreal goalie Keith Kinkaid busy on Wednesday that saw the goalie stopping 46 shots. Austin Matthews joined Andreas Johnsson and William Nylander, his usual linemates and scored during a power play in the third period.
NHL Video
Toronto appears with what is expected to be their usual lineup last night with the expectation of Zach Hyman, who is out with a knee injury and Travis Dermott who is out with a shoulder injury. The Leafs will play their first regular season game in October 2nd against Ottawa, and for punters, it is an opportune time to hedge their bets with leading sportsbooks such as Sports Interaction, a leading Canadian bookmaker offering up to $125 in new member bonuses.
Montreal seems already to be struggling in the pre-season and is anticipating only to have half its regular roster ready to go when they play against the Hurricanes in their first regular season game. They failed to bring forward Max Domi to Toronto last night, nor did they bring Carey Price. The score last night could have been much worse for Montreal last night after both Jason Spezza and Jake Muzzin hit the post in under three months during the first period. Moore is showing great promise in the pre-season and has scored twice.
Andersen is also in top form stopping all shots last night, one of which came from Brendan Gallagher during a power play. Marner was playing his first game after finalizing his contract with the Maple Leafs, valued at US$65.3 over the next six years. He played his part in helping Tavares score his late first period goal before Andersen put an end on a 2-on-1 rush by Phillip Daneault.
Montreal seemed to have scored in the second half of the second period, but officials waved off the goal due to it being kicked in. It was their best chance to stop Andersen from earning a shut out, and if not for Kinkaid doing a good job throughout the second, things could have been much worse.
Toronto will next play the Detroit Red Wings on Friday before playing their last pre-season game against Ottawa in Montreal on Saturday. Whether the charges surrounding Austin Matthews will impact morale and performance once the regular season begins is to be seen, but with evidence in the state's favour, Matthews could see up to 6 months in jail but most likely, will face a fine and or probation.