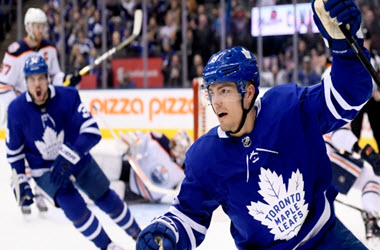 The Toronto Maple Leafs earned a hard fought win last night as the beat out the Edmonton Oilers 6-2 and earned their third victory in a row. However, it was not without loss after Travis Dermott was hit from behind by Brad Malone in what resulted in an injury to his shoulder and will be out for the foreseeable future.
Another of the Toronto Maple Leafs top players, Jake Gardiner, is also out and slated week to week due to a back injury. That compounds the loss of Dermott and places Toronto's back-end is a bad position. That was not lost on Mike Babcock, head coach for the Leafs who said,
"What are you going to do? Bottom line is, someone else is going to get a chance here. We'll find a player, maybe a better pair than we had playing, and go from there. Our forwards have to do a better job now and make sure we don't spend much time in our zone."
Andreas Johnsson scored two goals last night and scoring one each was Mitch Marner, Patrick Marleau, William Nylander and John Tavares. Assists were handed to Mitch Marner, Patrick Marleau, William Nylander, John Tavares, Connor Brown, Tyler Ennis, Ron Hainsey, Zack Hyman, Kasperi Kapanen and Auston Matthews.
Sportsnet
While Babcock did not see the hit that injured Dermott, the main problem is that their top contender to step in is also out with a foot injury. That leaves the Leafs depending on Martin Marincin from their AHL team. He will join Justin Holl when the Leafs play the New York Islanders on Thursday. Punters wanting action on the upcoming game will be interested to learn that sportsbook such as Bet365 is offering sizeable signup bonuses, ideal for the NHL and other sports betting markets.
John Tavares commented that the loss of Dermott and Gardiner hurts stating that they are key players on the team. Tavares added,
"We've had some key injuries up front and obviously we missed Willy Nylander at the start of the year, so it's an opportunity for guys to step up and get an opportunity and fill the void, go in there and play well. We have great depth at all positions, but obviously we do miss those guys."
The only silver lining in this is that the Leafs are on a hot streak having won three in a row and scoring seventeen goals in the last three games. Patrick Marleau scored the first goal of the night for the Leafs late in the first to tie the game even though being outshot 16-10.
However, with the first period behind them, the Leafs came out charging in the second with Mitch Marner scoring just after the first-minute mark to make it 2-1. That was followed by Andreas Johnsson who scored less than a minute later to make it 3-1 and 4-1 when he scored on a power play several minutes later.
John Tavares added another, and Frederik Anderson made 34 saves for the night. Commenting on the game, Tavares said,
"The way every line is playing, making things happen, being hard to play against, makes us tough to match up against. You can really feel that momentum go from line to line, guys want to feed off that and want to feed off each other so good to see it."
The offensive rhythm will now have to be nurtured by the Leafs as they wait for Dermott and Gardiner to return to the lineup. Adding to that is Kadri being out with a concussion that he suffered last week. Johnsson is confident however that they have what is needed to weather the storm stating,
"I feel like we have a lot of confidence out there. We know we haven't had the greatest starts [lately], but we know if we keep continuing, keep grinding, create opportunities and once someone starts rolling, the other ones follow that guy. Every time we get a goal, we get hungry to get another one."
The Maple Leafs next welcome the Buffalo Sabres before heading on the road to challenge the Calgary Flames, Vancouver Canucks and Edmonton Oilers. The Oilers will visit the Columbus Blue Jackets on Saturday and the Buffalo Sabres on Monday before returning home to welcome the Vancouver Canucks on Thursday.