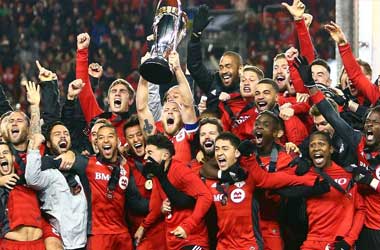 The Toronto FC are nearing the end of its preparations for the 2018 season but are still looking for a few pieces of the puzzle to come together. Toronto created buzz last week after it signed Gregory van der Wiel. Van der Wiel, a defender, has in the last played for a number of European teams having played forty-six games in the Netherlands and was a starter in the final of the 2010 FIFA World Cup final.
Acquiring a player of van der Wiel's stature was one that required TFC brass to pay out allocation monies from a special fund that clubs have to sign talent, both domestically and internationally, whose salary cap would be limited to $150,000 but with the special fund, can be increased up to $1 million. TFC utilized that same fund last year in its deal to acquire Spain's, Victor Vazquez.
Each season clubs are given $1.2 million that must be used and not using it means the following year will see the added fund not being provided. All MLS teams are permitted to utilise 2019 funds this year and can, in addition, spend up to $2.8 million using their own funds.
Tim Bezbatchenko, the General Manager for Toronto FC, confirmed TFC did not use all the money, both discretionary and mandatory that it was allocated in the acquisition of van der Wiel and can access those funds to sign other top talent. Bezbatchenko has been to South America and Europe a number of times in search of players the team can sign as the club hopes to sign another attacking and midfield player for the upcoming season.
Bezbatchenko admitted that,
"We still need maybe one or two more signings to really complete what we need to do"
Stating that he has the intention to continue discussing the re-signing of Jason Hernandez but with the cap on salaries, it might be difficult to get the deal done.
Hernandez, age 34, has not been under contract since last season and is now positions to be a free agent. Last March Hernandez signed with TFC as a free agent and was a valuable asset as a backup when needed and played in eight games during the regular season.
TFC HQ
TFC to play exhibition games in during Mexico trip
Toronto FC is planning on playing in several exhibition games while away at training camp in California at the end of January and early February. Toronto has scheduled games against Cruz Azul, Pachuca and Club America, all of whom play in the Liga MX. They also intend to play a first division team while in Mexico.
Greg Vanney, TFC coach, plans on not bringing the full team to Mexico that wee brought to California for their training camp.
Said Vanney,
"There won't be as many minutes to play … We'll start to get tighter, and start to look a little bit closer to what our final roster will look like. There will be 20 to 24 guys who will get the vast majority of [playing] time while we're down there."
However Vanney planes to place a large emphasis towards tactics while in Mexico stating,
"A lot of what we were doing in [L.A.] was about fitness, and some of the principles by which we're looking to play, and getting everybody on the same page. Now we'll get more specific in some of the tactical things".
The trip to Mexico is part of TFC's plans to get ready for the upcoming CONCACAF Champions League, which if successful, will be likely to play against a Mexican team. The new season is not far from getting underway, and for TFC fans, this year will be highly anticipated with hopes TFC will continue to be at the top of the league and win another championship. The new season will also be a good time for soccer fans to place their bets with soccer sportsbetting sites that offer TFC betting.