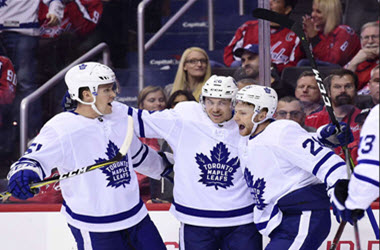 The Toronto Maple Leafs rolled into Washington on Saturday night for the last for their four game road trip, a road trip that saw them win all four, including last night again last year's Stanley Cup Champions.
The Toronto Maple Leafs are off to a blistering start this season and are turning heads with a dynamic team of seasoned professionals and eager, enthusiastic young guns like Austin Matthews. From the second the puck dropped last night, the Leafs sent out their brightest and top scorers, and it paid off with a 4-2 win over Washington.
It was only seconds into the first period that Toronto put the Washington Capitals on the defensive after a two on one rush that saw Chandler Stephenson score Toronto's first goal. Washington is the first team this season that played in the post-season last year that Toronto has faced. When you consider the Capitals have a nasty reputation for playing dirty, the boys in blue outplayed and outshot Washington to earn the win.
That distinction became evident in a victory that saw Toronto creating multiple scoring chances but also a game in which Washington were in control of multiple scoring opportunities by sheer exertion of their weight. As the buzzer rang ending the third period, it was the Leafs superior goaltending, the hottest playing in the league and their power play that got the job done.
Coach Babcock has told the team that if they bring home a win in their Thursday night game against the Red Wings, Friday practice would be cancelled as a reward. The carrot was dangled, and the Leafs took full advantage of it coming away with a 5-3 victory. It might have just been what was needed for success against Washington.
The motivation of a day off worked as far as Mitch Marner is concerned. Commenting, Marner said,
"We heard the news and got really excited. We wanted that win really badly. I think everyone in here's pretty recharged. You could see it today."
Sportsnet
That day off from practice saw many of the Leafs out for a day of sightseeing and relaxation as they arrived in Washington with several riding scooters around town as they took in the monuments and activity in the nation's capital. Commenting, Marner said,
"They were unbelievable. We got on scooters and rode around the city, just enjoyed it. At one point there were seven of us riding down the street beside a bus, taking over lanes. It was pretty funny."
Austin Matthews joined in on the fun adding,
"It was great, a really good time."At some you just gotta do what makes you happy and put yourself out there, have fun and not really care what other people think."
Matthews scored the winning goal as the clocked ticked down. With only 1 minute39 seconds remaining, he increased his streak of back-to-back games where he earned a point to six, and his linemate Morgan Rieley entered the franchise record books for extending his point streak after earning an assist last night.
Matthews now leads the league in points with 14, but last night's game was one that Matthews enjoyed as he watched the skill Kuznetsov displays on multiple levels. Matthews stated Kuznetsov is one of his favourite players to watch adding,
"The stuff he can do with the puck, not a lot of players can do. He's not afraid to get creative and, in my mind, very underrated."
Kuzentsov shared the sediment that Matthews sent his way mentioning that he is a Matthews fan and enjoyed the challenge last night. Kuznetsov added,
"He's a great player. It's always nice, watching on TV those type of guys, but even when you play against them, you can learn a lot. I'm never shy to learn from other players."
The Maple Leafs return to a hometown crowd that is on top of the world and are hoping to see their team come away with a home ice win as they welcome the Los Angeles Kings at the ACC on Monday night.