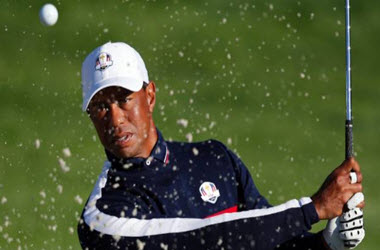 After Tiger Woods won East Gate, the excitement leading up to the start of this year's Ryder Cup is building and anticipation is high for the American team to have a good performance. Having Tiger Woods on the team is set to see that excitement and buss taken to another level.
Woods looked like the Tiger of the past as he led the last 36 holes and it seemed no one could match him. This was the old Tiger, one where others watched in awe, and crowds came out to watch something great take place – this is a Tiger who after four back surgeries has come back to a future that looks bright, one that all but had seemed destined not to return to golf.
This week at the Presidents Cup last year, Tiger Woods was a vice captain, it was also a point in time that Tiger foresaw a time when he may never return to competitive golf. However, after one PGA tour under his belt upon his return after surgery, he was selected as a vice captain by Jim Furyk for the Ryder Cup.
Then things changed again for Woods. First, it was Furyk choosing him for the team, then it was winning his first championship in five years – and that has created a buzz surrounding the Ryder Cup, one that Furyk said is nice to see.
The U.S team arrived in Paris this week, as did the Thomas Bjorn and some of his teammates from the European team, many of whom were at East Lake last week and witness Tigers performance first hand, and the flight home was time to reflect on what Woods will bring to the American team and their chances
Thomas Bjorn has played twenty-five years with Tiger Woods and commented that at any time Tiger does something great, it creates buss. He added,
"He does so much for the game of golf. Watching that last night, I thought it was brilliant. It was great for the greater aspect of the game. In the end, whatever it is these 24 guys are going to do this week, the game of golf needs that boost of somebody like him that transcends the game to the masses. So for everyone in golf, it's brilliant."
Ryder Cup
With Tiger back to full strength and playing his best golf in years, the U.S Team hopes he is back and up for the challenge. Woods has only played on one winning Ryder Cup team since 1997 but counting Woods out is never a wise thing given he was number one in the world for 683 weeks.
European captain, Thomas Bjorn is not focusing on Woods, but on the team as a whole. Bjorn commented that,
"We don't fear anyone because we've played against them so many times before individually, but we respect our opponents and know what we are up against. What stands on the other side we know is one of the strongest American teams of all time. We do what we do as a European team, and then we go out and take that on the golf course, and that's all 12 Americans. It's not one individual."
What the U.S team has to focus on is that the European team has played well over the years, whereas the U.S team has not. The last time they won on home soil was in 1993, and this is something that team captain Furyk is acutely aware of, and while the Americans have nine Ryder Cups under their belts, it does make them look good on paper, but that means little when compared to the Europeans.
"I'm not sure you really need extra motivation in a Ryder Cup. Obviously, I think there's a thorn in their side, and it's been that since 1993, and there's some veteran players that have played on a number of these teams that have never won on foreign soil. It's not anything I need to mention in the team room. They are well aware of it, and they are well aware of how difficult it is to win in Europe."
Now that the Ryder Cup is in full swing, bettors wanting to support their favourite countries will find many of the recommended sports betting sites at betting.ca offering great odds and special promotions. Why not take a look at our list of Canadian golf betting sites, sign-up today and place your bets early. With hundreds available in sign-up bonuses, you can't go wrong!