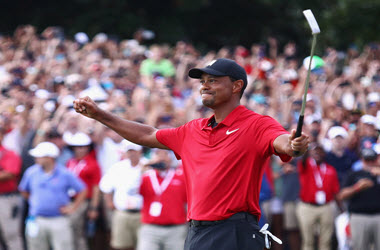 Tiger Woods got ready for the first hole at East Lake on Sunday in hopes that he would stay in front, gold the perfect game and win his first championship in five years. After finishing the 18th hole, Woods got his wish as he raised his arms in victory.
After undergoing his fourth back surgery this year, the win cemented his comeback season, one that Woods himself was worried he would not see. It was one that was surreal for the legend as he accepted the trophy in front of thousands of fans who came out to show their support in hopes they would witness Tiger Woods at his best.
As Woods accepted his trophy, he said, as he became emotional,
"I can't believe I pulled this off. Just to be able to compete and play again this year, that's a hell of a comeback."
Woods was, at one point, unable to walk, sit, or even lie down without being in pain after undergoing two surgeries on his back in less than eight weeks. The once champion for golf, it was the furthest thing from his mind, only recovery and the hopes he would heel. Woods was unsure if he would ever be able to return to gold a year ago, let alone compete at a professional level.
However, Woods delivered a near perfect ending to a tournament that was reminiscent of his past performances. It was an amazing comeback after the multiple back surgeries, especially after building up a five-shot lead over the rest of the pack, and Woods maintained the lead finishing two shots over second place, Billy Horschel.
Yesterday's win was Tiger's 80th on the PGA Tour. He is now only two victories away from matching the win record of Sam Snead, and after his performance at East Lake, that is something the world of golf could witness next year.
PGA
Tiger's success over the last three days has re-ignited Tigermania as the crowds pushed forward to catch a glimpse of Woods on the fairways and greens. At times it was almost chaotic as fans rushed to get the best spots hole after hole – they sensed something great was to come.
After Woods finished the 18th hole, several other players were on hand to greet and congratulate him including Billy Horschel, Rickie Fowler and Zach Johnson. Woods was moved they waited and commented that,
"They knew what I was struggling with. It was special to see them."
Tiger has only played in one tour event over the last two years because of his back. He dealt with not only the issues pertaining to his back but also the humiliation of a DUI arrest after being found sleeping in his car. However, Woods fought back to get healthy and return to the tour, and for those that have wins during his absence, his presence was felt full-throttle.
Woods finished the tournament 11 under 269 and earned a $1.62 million payday plus received a $3 million bonus for his second place finish in the FedEx Cup. Justin Rose took first in the FedEx Cup after finishing fourth in the tournament. Rose hit a birdie on the 18th but had he not, Woods would have won his third FedEx Cup title.
While the crowds came out to support the likes of Rose and Horschel, they were most focused on Tiger. The energy going into the final was electrifying as everyone knew that when in the lead at the 54th hole after the third round, Woods has never lost.
As Woods made his way through the 80 ft. gallery, those waiting to catch a glimpse knew he was coming from the roar of the crowds. People were climbing trees to catch sight of Woods, who finished the day with a 10ft. putt.