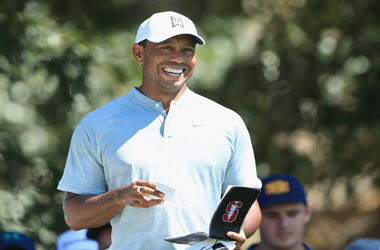 Tiger Woods made it look easy, and every hole looked like the one before it on Saturday as he sent his first shot down the fairway much to the delight of the crowds in attendance as he held his pose while he watched the ball soar effortlessly onto its way for his first birdie of the day.
Woods is playing his best golf of the season and built up a five-shot lead in the first seven holes, but things went a bit cold for him thereafter, but the lead he has was enough to see him going into the final as the leader over second place Rory McIlroy and Justin Rose. Tomorrow is his chance to end the season with another career-defining moment.
This is the first time since 2013 that Tiger Woods led after 54 holes, and as history has shown, when he does, he has never lost a tournament when ahead by two shots heading into the final round. With Woods back in prime condition after his back surgery, he is once again a threat on the course.
Woods spoke with reporters after the close of the round and said,
"I've gone through a lot this year to get myself to this point, and understanding and fighting my way through it. I'm certainly much more equipped than I was in March because of what I've gone through."
PGA
Woods will be paired with Rory McIlroy for the final round and is looking forward to Sunday saying that is exciting for golf. He added that
"It's exciting for golf in general that he's up there, but for me, all I can do is concentrate on myself. The game is hard enough without looking at other people. Go out there, take care of my business, and hopefully that's good enough."
Justin Rose began the day tied with Tiger, but that didn't last long after Rose bogeyed on the first two holes and had to fight his way back. However, by that time Woods was ahead by four shots. Rose was able to close the gap with a birdie on the 16th when Woods bogeyed the hole.
Rose said the day's energy felt like a final. He continued that,
"I knew that it was halfway through a Saturday. Just wanted to sort of chisel a few back and give myself a chance going into tomorrow."
There was a time when Woods was ahead that catching up to him was hopeless, so Rose focused on the course and his game versus Woods. He instead focused on staying in the game and advance to the final round. Considering Woods has won ninety tournaments in his career, but it has been a long stretch since his last win – five years to be exact.
"It's a little more unknown now. Obviously, his history, his statistics from this point are impeccable. They're incredible. But he's human, and there's a lot on it for him tomorrow, as well as the rest of us."
The beginning of the day was mesmerising for those in attendance as Woods sunk a twenty-foot putt on the first hole and his tee off shot on the third hole landed only eight feet from the hole. Woods followed that with another twenty-foot putt on the fourth and followed it with two more birdie holes before landing in the bunker on the 7th hole.
The lead he built up was enough to keep the lead. His last eleven holes only saw Tiger having one birdie hole. Woods may have slowed some on the final eleven, but for punters placing bets on the final day, Woods is your best bet, especially with Canadian golf sports betting sites such as Bodog, who will welcome you with a sign-up bonus when registering and making your first deposit.