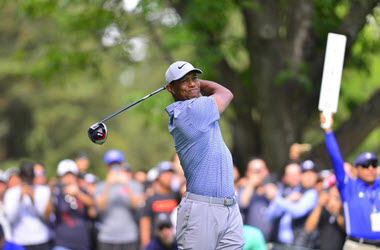 On a day that the Mexico Championship got underway, Tiger Woods saw his opening shot go out of bounds and Rory McIlroy nearly hitting a hole in one on the same hole. For Woods, it was a bad start, for McIlroy a great one.
The back nine at Chapultepec Golf Club was already good to McIlroy, who nearly scored a hole in one of the 305 yard opening hole. The shot landed on the green stopping just six feet short of the hole and saw McIlroy scoring an eagle that put him in first by one shot.
Tiger Woods, however, was not as fortunate. His opening shot also made the green. However, it was the wrong one as it sliced to the left and landed on a temporary green that was out of bounds. His second shot almost ended as badly before Woods avoided a double bogey and ending the day with a 71 after scoring multiple birdies to save the opening round. Woods commented that he,
"I pulled across it to try and cut it and hit it dead off the toe. Hit both of them dead off the toe."
PGA
McIlroy had an eight hole run that put him 6 under including one hole that saw sink a twenty foot put on the eighth hole and that was what put him into the lead over Dustin Johnson, who was playing in the group behind. Commenting on the first round, McIlroy said,
"I wouldn't say it was easy. I hit a lot of good golf shots, but I left myself a lot of tap-ins for birdies. As 63s go, I shot 63 at Riviera last week, but this felt probably a little more stress-free."
McIlroy added that the n0. 2 iron is near perfect and exactly how he envisioned it would be in the thinner Mexican air. He played a near perfect round with the exception of the sixth hole when his shot went wide into the trees. It looked like he would have to hit it out to the fairway but found an opening between the branches and sent the ball to the green. McIlroy said there was one branch that worried him likening it to one a dog would pick up. He added,
"The one branch it could not hit, it hit," he said. "It all levels out at the end of the day. I'm just in a good frame of mind, managing my game well, putting went good. And if you putt well, it takes pressure off the rest of your game. And that's where it's at."
Two years ago Dustin Johnson won the Championship in Mexico during a period of three victories that saw Johnson play the best golf has ever played. Johnson's opening round mimicked McIlroy's with little stress with the exception of the twelfth hole when his shot failed to give him a direct line to the green, and he instead shot for the bunker. That resulted in the ball bouncing and getting to the edge of the green leaving Johnson a twenty foot put and earning a birdie.
Justin Thomas has a solid performance in the opening round as well ending his round at 66 to tie day one with Matt Kuchar, the winner of this year's Mayakoba Classic. Woods finished the day at 71 and Phil Mickelson, who won in Pebble Beach two weeks ago show a 79.
Round two of the Mexican Championship will be ideal for golf punters to place their bets on who will win this year's championship in Mexico. With a respected list of golf betting sites that are Canadian friendly such as Bodog, Bet365 and Sports Interaction, punters have excellent bonus opportunities to increase their bankroll for the season ahead. Register today and take advantage of these and other offers at betting.ca