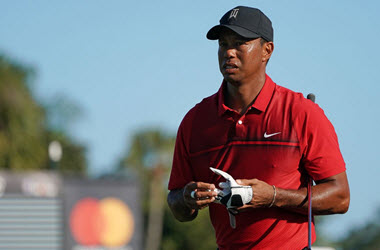 Tiger Woods seems back in the game as the crowds are cheering him on after chipping in a shot. Woods is one of those players that generates interest, and when he raised his putter to the crowd, the road was unmistakable.
For Corey Conners, the attention brought a smile to his face. Connors himself had a solid day scoring 6 birdies and shooting 3 under par. That put him in the lead by one shot and pushed him a little closer to securing his first ever PGA victory. Even those who are hoping to beat Woods were taken in by the crowd's support of Woods.
Brandt Snedeker, who was on the green with Woods said,
"I can confirm he's back. The roars are back, its fun to hear the crowd going crazy again and realize how excited we are in having him back out here and play the way he is. He's playing great."
The Valspar Championship is the seventieth PGA event for Connors, who hails from Canada. Keeping his cool on the green when saving a bunker shot on the 17th hole to shoot par, and was collected when his ball slightly moved on the 18th green.
PGA Tour
Connor knows what he should expect going into the final day with pro's like Woods, Rose and Snedeker all being one shot behind.
Said Connors,
"I kind of knew what was going on without even having to see it, but it will be cool. It's fun seeing him out there today, and I'm sure he'll be battling hard tomorrow. But hopefully, I can play my game and have a good day."
As Tiger Woods made his way through the holes, it appeared that he take the lead, and for Connors, he knows Woods record well with fourteen majors under his belt and a staggering seventy-nine PGA wins. Those in attendances all wanted a chance to see Woods in action, and with Tiger being 5 under par on the 11th, the chants only got louder, and this saw Woods dropping a shot on the 12th, while across the lake Corey Conners landed a twenty foot put to pull within ahead of Rose by two.
Commenting on the crowds, Rose said,
"I was walking down the sixth and looked over to the fourth green. I said to my caddie, 'Have you ever seen those crowds?' Eight-deep back there. It was a view that certainly wouldn't have been the same had he not been playing. He's on the leaderboard and challenging for the lead. I think it's exciting to have him back for the casual golf fan, but now the true Tiger fans get excited."
And that includes Woods, who commented on the days' events saying,
'I am excited, I feel like I'm playing a bit better and cleaner. I moved myself up the board. I know it's packed up there, but at least I got a shot."
Woods has been winless since August 2013, so a win at Valspar will be welcomed indeed. Of course, with Woods playing better than he had in the last few years, golf sportsbetting sites are watching closely with hopes that Woods will once again bring higher interest to the sport of golf. When you consider that Woods was unsure if he would be able to compete at the pro level after his multiple back surgeries, this is great news indeed.