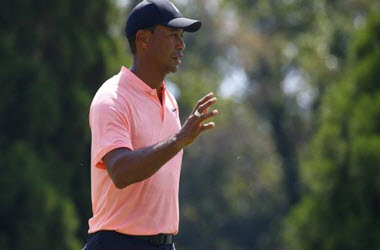 The crowds came out to see Tiger Woods and made their appreciation known. The crowds were larger, louder and it didn't take much to see why being that Woods hasn't played there is five years.
Woods shot 5 under yesterday, one of his best since returning to the FedEx Cup, and he had crowds cheering after sinking a 25-foot putt on the 18th hole. At the end of the day, it was Woods and Fowler sharing the lead.
Yesterday's close was the second time that Woods was in a tie for first after the 18th hole. The first was two weeks ago at the BMW Championship opening round. For Woods, he said this one felt better adding,
"This was by far better than the 62 at Aronimink. Conditions were soft there. This, it's hard to get the ball closer. If you drive the ball in the rough, you know you can't get the ball close. You just can't control it."
Ricky Fowler has missed the last two playoff events after suffering a birdied o right oblique injury. Fowler birdied on 16 out of 18 holes and is on a mission to get his first season win after recovery. Woods has had a successful year so far after making the field for East Lake Head and a chance at a $10 million bonus at the FedEx Finale. Woods had his fourth back surgery at the beginning of the year and that limited him to entering only sixteen PGA events over the last four year seasons. Speaking to reporters after day one, Woods said,
"To be able to play golf again and to earn my way back to this level is something that I was hoping I would do at the beginning of the year, but I didn't know, and I've done it?"
PGA Tour
The job is far from done with 54 holes left to go before the winner is crowned. However, Woods is well aware that East Lake is about precision. He began the day with a bogey and missed birdies but then followed that with birdies on the 5th and 6th hole and quickly figured out the greens as he played.
Woods commented that he did not mishit any one particular shot today adding that,
"I hit so many quality shots all day, whether it was tee-to-green or it was putts. The only shot I can honestly say that I necked pretty bad was the tee shot at 17. Hit a 3-wood there, and with an iron, I probably would have shanked it. But ended up in the fairway and made par."
Woods and Fowler will play together in Friday, and with the two being neighbours, it will be just another day of golf, or will it. After Fowler finished the day, he went off to do some interviews and then heard the roar of the crowds after Woods eagled the 18th. The two will become teammates at the Ryder Cup next week, but his focus is on East Lake. Commenting on Tiger's performance, Fowler said,
"The biggest win for him is just staying healthy and being out here all year consistently. Definitely happy for him. It's obviously great for our sport. It's great to have him as part of the team next week. We hope he continues to play well. I just want to play a little bit better and beat him."
There were sixteen players from the 30 player field that made par, a day when everyone was focused on remaining in the game and chasing the FedEx Cup. Bryson DeChambeau, who was seeded No.1 birdied his last two holes to remain in the hunt, but to take the win, he will need to see Fowler to Woods falter.
Friday will be the key for Tiger, and he will need to remain consistent if he hopes to take the lead and then keep Fowler at bay. One thing is certain, and that is the crowds are behind him, and that might be just what he needs after a few rough years.
"I hadn't played this tournament in five years, and some of the people said they haven't been out here in five years. That's kind of nice that they're coming out and supporting this event and supporting me, as well."
As for golf bettors, get in your bets for Fridays final now. New to gold betting, why now register with our recommended golf sports betting site 888Sport, with a sign-up bonus worth up to $250, and a slew of on-going promotions, it is perfect for golf betting and other sports of interest. Why wait, sign-up today.