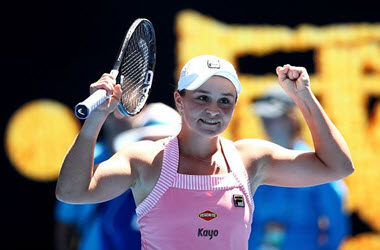 Ashleigh Barty, at the ripe age of 23, had yet to make it into the top 10 in the Women's Tennis Association that was until April when she catapulted into first and is now ranked as the No. 1 player.
That leap came after making it to the quarterfinals in January at the Australian Open and winning the French Open. For Barty, a native of Australia, the last few weeks have been a whirlwind and commenting, so too has the year in general.
Barty has displayed the skills needed and on-court intelligence that produces results. In could be in part due to the fact she played cricket professionally before returning to tennis. If things continue for Barty, Wimbledon will be another she hopefully checks off her list, one that saw her exiting during the third round in 2018.
That disappointment came after winning twelve straight matches, but she since proved her skill during the lead-up tournament to Wimbledon where failed to lose a single set and it what was needed to give Barty confidence, but more importantly, put her ahead in the rankings of Naomi Osaka. Commenting on the achievement, Barty stated,
"You always dream of it as a little kid, but for it to become a reality is incredible. This year, we were aiming for top 10, and now to be where we are is a testament to all of the people around me."
This season began with Ashleigh Barty sitting in 15th and only making it to the fourth round once in seventeen appearances during major tournaments. The turnaround is one few foresaw and 2019 has seen her produce thirty-six wins and earn three titles, all on different surfaces. Barty made her return to tennis in 2016 after leaving the sports for a year and a half claiming time away was needed due to its rigorous demands. However, while she made a jump back to cricket, her talents as a tennis player were never in doubt as far as her coach was concerned. Commenting on the decision to take a break, coach, Craig Tyzzer stated,
"She was just overwhelmed with everything. She was so young. Expectations were high on her back then. And she wasn't handling that stuff very well. So it was the best thing she ever did, was step away from the sport and just reassess her life and see what she wanted to do. For someone to be able to walk back in and play tennis at the level she's been able to do in three years is pretty amazing. And she's grown in that time, as well. The growth is continuing. It'll still be ongoing."
To help her continue to grow, Barty also works closely with a performance coach to help manage the mental aspects of the game. Barty feels that has been instrumental in helping her become a better person and better tennis player. When on the court, Barty is helped by Tyzzer in her continual quest for improvement. Regardless of the surface, that help, along with the coaching of Craig Tyzzer has seen Barty's forehand, serve and backhand all improve and with it, her confidence. Speaking on that, Tyzzer said,
"This game doesn't get any easier. The fact that you won a Grand Slam doesn't mean you go out and win every match from now on, and she'll know that."
Whether Barty continues down her current path of success for the remainder of this season is one both Tyzzer, her performance coach and Barty will be focused on. While it is not one that will last forever, at the moment, enjoying the success is what is deserved.