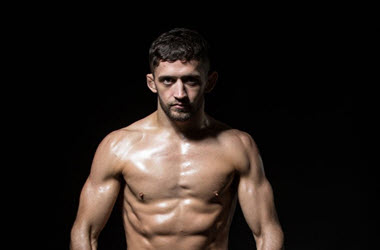 Pietro Menga, the Manchester flyweight, will get in the octagon this weekend for first time with hopes finish his Manchester 'Rocky' story.
Menga recently received a call to find out if he would be interested in facing Tim Elliott, the former UFC flyweight challenger at the December 16th Winnipeg UFC Fight Night with only 12 days' notice. Menga has an incredible record of thirteen wins and 0 losses, and is one of the best flyweight prospects over the last several years.
He worked incredibly hard to place himself on a chance call-up, asking Mick Maynard, the UFC matchmaker, to place him the call list for short-notice bouts for both bantamweight and flyweight. Menga even revealed that he intended to try the featherweight class at January's Ultimate Fighter.
"For more than two years, I've been hopeful for a break and patiently waited for a call from the UFC"
When he finally got the call, it offered Menga the opportunity to fight at his ideal weight class of 125lbs. Menga's call up for UFC was his third shot in 2017 with his first 2 chances falling through before he even had the opportunity to step into the octagon. Stepping into the octagon for UFC will short notice is intimidating enough, but what makes things even worse is that Menga will be fighting a contender that is considered the toughest flyweight contenders in the UFC. Tim Elliott is the last contender to take Demetrious Johnson, the flyweight champion has an extremely fighting style that is aggressive and could be a a nightmare for any debutant stepping into a bout at short notice.
"I like the fact that Elliott is such a difficult contender. It will bring out the best in me,"
Elliott is one of the toughest short-notice fighters in the division due to the unique style he brings. He is certainly the toughest fight in the division compared to all the other fights.
"I'll enjoy it I love going to war. If Elliott makes one mistake, I'll finish him. I respect Elliott as a fighter, especially for the fact that he doesn't pretend to be something he is not. But rest assured, it will be all business on fight night."
Menga might not be a renowned fighter in the MMA world today, but signing with the UFC, he plans to change that quickly. He says he's ready to jump i the octagon with any of the UFC's top 10. Menga is adamant that he has the skills to prevail regardless of where the fight goes, and despite the lack of preparation he had for the contest.  Bettors for MMA betting gearing up for theWinnipeg Fight Night will have plenty to look forward to as they anticpate Menga entering the cage and seeing how his confidence plays out.