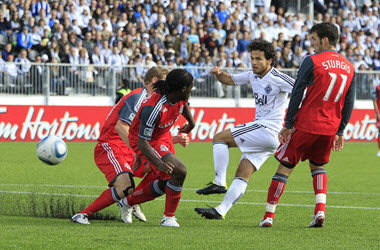 A lot has changed in the last ten months for the Toronto FC. Last year they stood as champions, this year they and clearing out their locker room after failing to make the playoffs. Disappointment, anger, embarrassment and frustration clear on their faces on all at BMO Field in Toronto.
Following their loss to the Vancouver Whitecaps on Saturday, Toronto's coach, Greg Vanney said it is hard to put into words. Vanney added,
"It's not like this happened overnight. It's been a season-long challenge and journey. Those emotions have developed over the course of the season, not just one night. But tonight was another one of those nights."
The loss and subsequently not making the playoffs is a kick in the gut to Vanney, who last year won coach of the year. TFC joins San Jose, Colorado, Orlando and Chicago as those who have been eliminated, but for Toronto, the created a hole they simply could not get out of.
The Whitecaps needed only four minutes to score thanks to Russell Teibert, Kei Kamara scored Vancouver's second of the game at the 78th minute mark and with strong defenders like Doneil Henry and Kendall Waston, they were able to hold off Toronto.
The crowd at BMO Field were stunned into silence after Gregory van der Wiel was sent packing after earning his second yellow card, both of which were earned as a result of van der Wiel bodychecking one of Vancouver's players to the ground.
Toronto managed to tie the game at the 73r minutes into the game after TFC was awarded a penalty kick, but that lasted only five minutes after Kamara made it 2-1 for Vancouver, and from there on, hope was fading as regulation time ticked down.
TFC
The crowds were not pleased and made it known with many in attendance booing. Considering ticket prices for the 24,000 plus season holders was increased for next season, yesterday's loss was bittersweet.
Interim head coach for Vancouver, Craig Dalrymple is pleased to see their hopes of making the playoffs remain alive. Dalrymple, speaking post-game said,
"I'm really proud of the boys because they believed. They came in at halftime 1-0 up, and they still weren't happy. They wanted more, and they wanted to fix a few things that weren't quite right in the first half, and they did it."
This was the second week on a row that Toronto was in a win or die situation, and in both games, they dropped the proverbial ball. They managed to pull off a 4-1 victory against New England last week but new that another tie or loss would bring an end to the season if Montreal pulled off a win in their game against Columbus, and that is exactly what happened.
TFC only managed back-to-back wins once this season, and that meant the order of the day was a tall one. It was one the Whitecaps didn't waste time pouncing on, and it saw Toronto chalking up the worst record in the league for allowing first goals in within the first 15 minutes of play.
Many are questioning whether Michael Bradley should remain as team captain, but what TFC does in the offseason to prepare and get back on track no one knows. One thing is certain, TFC needs to get organized and get back on track. If Bradley is not part of that, so be it, but something is not working, not for a team that went from league champions to all but irrelevant, all in only 10 months.
Toronto will end their season with games against Montreal, D.C United and finally Atlanta. Then it is back to the drawing board. The MLS playoffs will begin on October 31st with the final being played on the 8th of December. Punters wanting to place bets can register with our recommended MLS sports betting site, Betonline.ag. Register today and enjoy a signup bonus worth up to $2500.