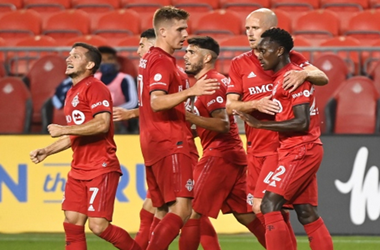 The Toronto FC continued their domination on Friday night with a 1-0 win against the Vancouver Whitecaps at BMO Field in Toronto, Canada. For TFC's Richie Laryea, it is the teams' mental toughness that has them close to making history.
Laryea scored the winning goal on Friday to help push Toronto to a 17 game win streak. The goal came early into the game and was an advantage that Vancouver was unable to overcome. Post-match, while peaking with the media, Laryea said,
"I think it just comes down to being a very resilient group. This group fights to the end. This is a very big club in this league so guys want to compete for trophies every single year."
Only four other teams in the league's history have accomplished a similar winning streak. At their current pace, if Toronto FC manages two more back-to-back wins, it will tie that from the winning streak recorded by the Columbus Crew and Dallas FC.
Quentin Westberg, who plays goalkeeper for Toronto, and who scored a shutout after blocking a shot on goal by Vancouver on Friday night commented stating,
"I think we've done well, but we've done well both individually and collectively. We've been playing together for a while now and we've really established a good identity."
Major League Soccer
This is the second consecutive win against Vancouver in the last four gays. Vancouver currently has lost three of the last four games played, and for Greg Vanney, the head coach for Toronto, he felt the Whitecaps stepped it up stating,
"Just by virtue of the numbers they had on that backline it became difficult, the spaces weren't as clear to be able to get behind them or to really attack them. That slowed the game down and when the game gets slowed down you have to be really patient."
Both Toronto, Vancouver and game officials opted to take to one knee before the game got underway. The show of support to Black Lives Matter was tweeted by the Whitecaps and it showed several raising their fists.
Laryea scored the winning goal fifteen minutes into the first half after coming across the field, picking up a pass from Alejandro Pozuelo and tapping it inside the net past Whitecaps goaltender Thomas Hasal. Commenting on the goal, Laryea stated,
"I was pinching in to help with transition and I realized the ball's getting into the box and I didn't have anybody near me. Thankfully I was able to get the ball right in front of me and it landed pretty nicely for me and I was able to put it back post."
While fans and celebrations remain absent from BMO Field in an effort to reduce the spreading of COVID-19, it wasn't long before the screams from teammates could be heard, as could the screams of fans who were watching the game via a video link street side.
Toronto had another scoring attempt less than a minute after the first goal after sneaking past the Whitecaps defence, but that attempt was blocked by Hasal. However, Toronto dominated the remainder of the game by picking away at Vancouver's defence and applying constant pressure.
TFC has a solid opportunity to go up by two after Delgado fired off a close range shot that Hasel stopped with his chest. Vancouver received two corner kicks late in the second half but was unable to tie the game.
The continued skill shown by Toronto is good news for soccer fans wishing to show their support or get in on the action with bookmakers. Currently, with the start up of most sports leagues, they are offering generous sign up bonuses that are perfect for gaining an advantage.
Vancouver will next head to Montreal to play the Impact on Tuesday, while Toronto will welcome the Montreal Impact to BMO Field in Toronto on the 28th. Thereafter, Toronto will take a week long break before heading to Vancouver on the 5th of September