Tennis Australia Gets Flak After Russian Flag Seen Courtside At Aussie Open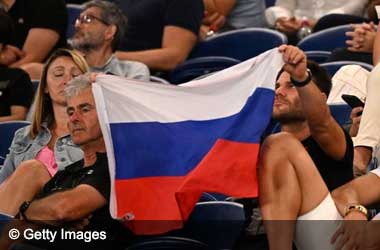 Summary
Russian flag displayed courtside during a match between a Russian vs. Ukrainian player
Tennis Australia apologizes for the incident after receiving strong criticism
Russian supporter who displayed flag says he was just 'taking the piss'
The All England Lawn Tennis & Croquet Club banned Russian and Belarusian players from taking part in Wimbledon last year due to Russia's invasion of Ukraine and the on-going war.
Tennis Australia decided not to ban Russian and Belarusian players from the 2023 Australian Open.
It did not take long for an incident to crop up during the 2023 Australian Open that has caused an embarrassment for Tennis Australia.
Russian Flag Displayed Courtside
Kateryna Baindl from Ukraine took on Kamilla Rakhimova on Court 14 in the first round of the Australian Open. The Ukrainian player went on to win the match 7-5, 6-7, 6-1 and move on to the second round against Caty McNally after a controversial incident occurred during the match. Remember to check the live odds for the 2023 Australian Open regularly.
A Russian flag was displayed courtside during this game and Ukrainian fans took offense and immediately got in touch with the authorities who showed up and removed the flag. Tennis Australia received massive criticism on social media for allowing the flag to be displayed courtside.
Vasyl Myroshnychenko, Ukraine's ambassador to Australia sent out a strong message and demanded Tennis Australia take action to ensure another incident like this does not occur during the tournament. Fans went on social media to call the incident shameless and disgusting!
Doug Trappett, ex-Australian ambassador to Ukraine lashed out at Tennis Australia and called them spineless for not following the steps of the All England Lawn Tennis & Croquet Club and banning Russian and Belarusian players from taking part in the tournament.
Tennis Australia has now confirmed that it will impose a blanket ban on all Russian and Belarusian flags from entering Melbourne Park in the following rounds of the tennis tournament. Jacinta Allan, the Acting Premier for Victoria said it was the right decision from Tennis Australia and supported the move.
Fan Claims He Was Only Taking The Piss
The Russian fan who displayed the flag courtside was born in Moscow but moved to Australia at the age of 5.
He said he decided to display the Russian flag courtside as Kamilla Rakhimova had only one fan in the stadium which was her mother. He said he wanted to take the piss by displaying the flag and wearing a t-shirt of mother Russia that had Vladimir Putin shirtless on horseback with devil horns!