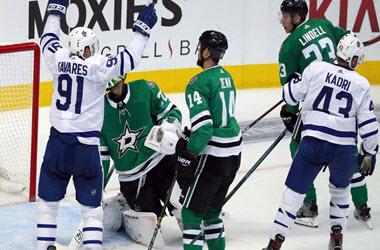 The regular season is looking good for Toronto, having aces like Tavares and Matthews is just the fuel the embattled franchise needs to help propel them to the top, and least nights 7-4 win over the Dallas Stars is just the beginning of what fans hope will be a season to remember.
Austin Matthews and John Tavares both scored two goals last night. Mitch Marner scored one and earned three assists, Morgan Rielly earned a career high of four assists, and Ron Hainsey scored one as did Connor Brown.
The Maple Leafs, who were led by Tavares and Matthews improved their record to 2-0 on a four game road trip. The Leafs are on fire at the moment having won three of their first four regular season games. Matthews compiled seven goals in those games and earned three assists. Tavares, who shocked the hockey world when he signed with Toronto has six goals to date
Matthews commented last night that when the puck is going in, it is always a good feeling. He added that,
"You want to continue to generate chances because it's going to get harder and harder as the season goes along."
Dallas Stars forward, Tyler Seguin scored one goal and earned three assists. Alexander Radulov scored one goal and earned two assists, Jamie Benn scored one as did John Kingsberg. Goalie Ben Bishop has 23 saves for the bight, while leafs goalie, Frederik Andersen has 30 saves.
Toronto took control last night after scoring three times in the last eight minutes of the second period to give them a 5-2 lead. Tavares and Matthews scored during a power play, and Hainsey put one into the net from the Stars blue line.
SportsNet
Tavares said that he likes the fact that their power play is not about trying to make any highlight-reel plays. Tavares went on to say,
"I think we're just kind of sticking with our structure and what we believe is going to work for us."
After Toronto went two for three last night on their power plays, Dallas coach Jim Montgomery said,
"We have to do a better job killing penalties than we did tonight. We made it too easy. They make it hard on you. Those were some really nice goals they scored."
The main scoring opportunities for Dallas were a result of their top line. Tyler Sequin has his second four point game, and Alexander Radulov has scored in the last three games, and that makes it a powerful line to be reckoned with.
However, Dallas made a large number of giveaway errors, and for Montgomery, it was a combination of creativity and speed that was lacking, that and their execution against a team that is really well put together.
The Maple Leafs next play the Red Wings at 7:30 pm tomorrow in Detroit, and then will be off to Washington to face the Capitals. Punters in search of a well-rounded, secure and trusted sports betting site offering NHL action will find our list of Canadian sports betting sites all offering superior promotions for NHL betting. Take a look at the generous offers and register today in time for tomorrow night's game against Detroit.