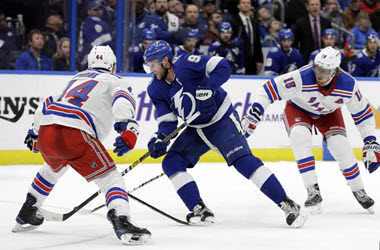 The Tampa Bay Lightning has been on a winning streak and watched as that was extended to seven games in a row last night after Steven Stamkos scored a hat trick on the way to beating the New York Rangers 6-3 last night in Tampa.
Stamkos earned the distinction of being the first 2008 draft player to reach the 700 point milestone last night after scoring a hat trick. It was Tampa Bay's seventh straight win and with it extended their lead over second place Toronto in the Atlantic Division.
Tampa and New York went back and forth last night, but it was Stamkos who, on a power play managed to tie the game, both in the first and second periods. This was his first hat trick since Oct 2014 and his ninth overall.
Bookmakers are hot for Tampa, and with Toronto close on their heels, punters favouring the Toronto Maple Leafs will find excellent odds in their favour with top rated NHL betting sites such as Betway Sports. Newly registered punters to Betway will find a welcome bonus waiting worth up to $2500, so this is a sportsbook well worth considering.
The hat trick wasn't lost on Stamkos, who stated with a laugh,
"I knew it had been a while. I don't know the exact date. I don't want to hear it."
Tampa's game against the Avalanche on Saturday saw Stamkos scoring two goals and earning an assist, and that put him on the precipice of joining an elite membership of NHL players who have earned 700 points in their career that includes Vincent Lecavalier with 874 points and Martin St Louis with 953. Stamkos is the only player in franchise history for Tampa to reach this milestone.
Sportsnet
Also scoring for Tampa last night was Anthony Cirelli, who scored twice and Ryan McDonagh, who scored once. Louis Dominque has 23 saves for the night, and earning assists were Victor Hedman, J.T Miller, Braden Point, Erik Cernak, Braydon Coburn, Alex Killorn and Nikita Kucherov.
New York Rangers Kevin Hayes and Jesper Fast scored for New York, Henrik Lundqvist has 30 saves, and earning assists was Filip Chytil, Vladislav Namestnikov, Ryan Stone and Jimmy Vesey. Henrik Lundqvist new the challenges the Rangers faced going into the game last night. Commenting, Lundqvist said,
"To be able to beat some of the best teams, you have to play really strict and smart, and make the right decision with or without the puck. So, the next time we play a top team like this we need to do all those things."
New York's Kevin Shattenkirk exited the game with a shoulder injury after being checked. After the game, Shattenkirk was seen with a sling, but David Quin, the Rangers coach had no comment, but it is expected Shattenkirk will be evaluated on Tuesday.
New York took an early lead in the first last night, t 20:19, but it took Tampa less than two minutes to tie the game after Stamkos scored his first. Tampa biggest failure was too many penalties, and that is not how to win against the best team in the league. Commenting, Lundqvist said,
"Take that many penalties, you're not going to beat Tampa, That's just the way it is. We can work really hard and do a lot of good things but it's too important in the game. Hopefully we really learned a lesson."
Tampa Bay will welcome the Toronto Maple Leafs on Thursday before heading to Winnipeg to face the Jets. Considering Tampa and Toronto are at the top of the standings, it will be an important game for both teams.