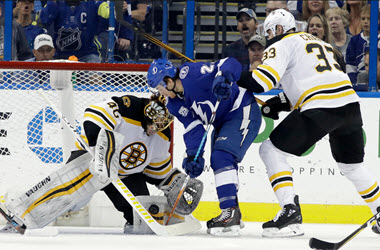 The Tampa Bay Lightning and Boston Bruins met last night for Game 3 of their series. Tied 1-1, it was a battle that saw Tampa come out strong and win 4-1 to take a 2-1 lead in the series.
Game 3 between the Tampa Bay Lightning and the Boston Bruins got underway on a positive note for Yanni Gourde as he celebrated the arrival of his first child. Between his responsibilities at home and the playoffs, sleep will be scarce as the series heats up.
Gourde spent the evening with his wife and new daughter before leaving for Boston. He missed the morning practice but arrived in time to join the team for lunch to a welcome of celebration and well-wishes.
Speaking on the arrival of Gourde's daughter, Jon Cooper, coach of the Lightning said it was if the team scored a winning goal after Gourde earned an assist and Ondrej Palat racked up two goals to give Tampa the series lead.
Cooper commented that,
"It's a team that cares, we were so happy for him."
Ondrej Palat first scored at the 3:19 mark of the first period and got his second of the night only 92 seconds later. Goaltender for Tampa, Andrei Vasilevskiy stopped twenty-eight shots to help the Lightning earn back-to-back wins.
Sportsnet
Game 4 will get under Friday night, and with Boston being a favoured team, hockey bookmakers are expecting action to favour the Bruins, but the Lightning may prove to be a thorn in the Bruins side.
Coach Cooper added,
"Boston came in and took one of our games at home, we had to take one of theirs on the road, we did that."
Boston Bruin's Patrice Bergeron opened last night's scoring giving the Bruins a 1-0 lead, but for Boston, that lead evaporated after Anthony Cirelli earned his first playoff goal and Ondrej Palat scored twice to give the Lightning a 3-1 lead in the first period.
On earning an assist and the birth of his daughter, Gourde said,
"The last 24 hours have been amazing. Obviously, I wanted to be there for my wife and, I think, it ended up it was perfect."
Palat first goal came after Matt Grzelcyk hit the puck out of the air and lost control of it to see it picked up by Palat who them. Palat scored less than 2 minutes later after picking up a deflected shot from Torey Krug.
Bruce Cassidy, Bruins coach said,
"It's not good, obviously, but we've come back a lot."
He continued adding,
"So this is nothing new. You've still got 50-some minutes left. There's going to be a lull from the crowd, but you've got to get it back. … The second and third goals, to me, are much worse."
After the Lightning scored their third goal, they retained the lead and kept Boston at bay. In a power play position for the final minutes of the game, Tampa scored its 4th goal of the night after Tony Krug was called for tripping and the Lightning scored on an empty net.