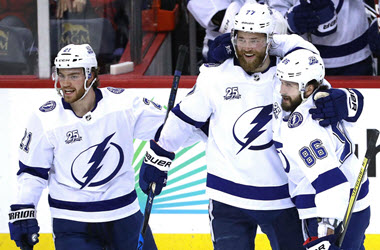 Tampa Bay needed momentum to get back on track, and it was Victor Hedman who took on the challenge to do precisely that helping the Lightning beat the Washington Capitals 4-2 last night.
The Washington Capitals were unable to bully and batter their way to a win last night. It was the superior skills of the Tampa Bay Lightning that get the first goal of the night when Victor Hedman scored on a power play at 12:52 of the first period.
Hedman earned two assists to his post-season record and Vasilevskiy has 36 saves on 38 shots on goal. The win cut the Capitals lead to 2-1 and gave Tampa Bay the push they needed. Also scoring for Tampa was Nikita Kucherov, Steven Stamkos and Brayden Point.
Hedman has one goal and ten assists in the post-season and has managed to earn a point in the last eight games. Commenting on his performance last night, Hedman said
"I'm put in a position to produce, and I put that pressure on myself to do it. For me, it's about being effective at all ends of the ice and trying to be a difference-maker every time I step on it."
Sportsnet
Hedman, who played over 25 minutes last night, proved to be a dominant force getting into plays all over the ice and making Tampa Bay look like a team that has figured out the Capitals. After losing the first two games, the Lightning now has the opportunity to tie the series before heading back to Tampa for Game 5.
Speaking about Hedman is post-game interviews, Stamkos said,
"He's a perennial Norris guy, we can't describe how good he is out there. We rely on him a ton, he's a horse and most nights if he's going well, we're going well as a team. Another big effort for him tonight, and you could see we all followed suit."
The Lightning, far from perfect in Game 3, were an improvement over Games 1 and 2. They managed a 3-0 lead before Washington got on the board after Brett Connolly scored. Point responded five minutes later to make it 4-1, and it wasn't until late in the third that Washington's Evgeny Kuznetsov's scored to make it 4-2.
A large part of their success was thanks to Andrei Vasilevskiy who was instrumental in shutting down the Capitals during power plays. The goaltender has faced criticism during the post-season, but the Lightning stepped up to the plate being on point during rushes to the net after having let him down in the last two games.
Anton Stalman felt the team owed him saying,
"He's our best player. He's always there, he's always there for us and tonight we did a good job in front of him. I think that gives him some confidence, too, that he knows we're on and that's the way it should be."
Washington managed to outshoot Tampa Bay 38-23, but that failed to help the Capitals with the six penalties that saw the Lightning with a man advantage. The Capitals need to get their aggression checked at the door if they want to win games and stay out of the box. The power line of Kucherov and Stamkos were responsible for two goals last night and are a force to reckon with.
Alex Ovechkin, captain of the Capitals, is well aware that both teams have talented players stating,
"We know both teams have pretty good special teams, and if we're going to play like that, they're going to use it. Obviously, you can see we didn't score, they scored."
Tampa faced a few scares with key players appearing to be injured. Stamkos left limping after being hit by a slap shot from Braydon Coburn as did Tyler Johnson after a nasty cross-check by Michal Kempny. Thankfully both returned for their next shift.
In post-game interviews, Stamkos was holding an ice pack to his knee and stated the shot was a nasty one. He hopes his teammates all are feeling ok, but being down 2-1 he stated,
"We haven't done anything yet. The goal is to win a championship, but you can't look too far ahead. We've made it a series."
The Capitals will play host to the Lightning for Game 4 before heading to Tampa for Game 5 and back to Washington for Game 6. The series will return to Tampa if Game 7 is needed to decide the fate of either team. With the playoffs heating up, many sportsbooks are taking action and favouring the Captials to win in six games, and Tampa is on the track to proving them wrong, if they have anything to say about it.