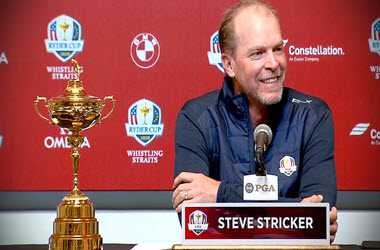 The Ryder Cup committee and PGA of America announced on Wednesday that Steve Stricker had been selected as the Captain of the U.S Ryder Cup team. Stricker first made the U.S team in 2008 at the age of 41 when the U.S won at Valhalla. He then made several other appearances and was named to the team in the role of assistant captain to Davis Love III, Jim Furyk and Tom Watson for six years.
The appointment came on Wednesday and will be the seventh appearance Steve Stricker has appeared on the U.S team. However, this time will have a mandate of bringing home the trophy. The appointment was not a surprise due to matches in 20202 being held at Whistling Straits. Stricker was unsure if the Captaincy would go to him being that he has failed to win a major. Commenting, Stricker stated,
"I was thinking they're not going to have me. I haven't won a major, but it kept going further along, me putting in the time last year, the Presidents Cup a couple of years ago, and the PGA of America and Ryder Cup committees saying they wanted to move off from that."
PGA.com
Now, all that is important for Stricker is to bring home the cup. Tiger Woods, who was one of those on the Ryder Cup committee, stated that Stricker was a unanimous choice adding,
"Everyone knows he's such a nice guy, but beneath all of that exterior is this fieriness and this competitiveness, and he's also one of the more detail-oriented guys that we know. I think that he'll be prepared, he'll be understanding and he's very good at communicating with the players and getting their opinions but also putting his foot down when he has to."
The Europe Ryder Cup Captaincy will see Padraig Harrington leading the team for the matches in 2020. Europe has won seven of the last nine Ryder Cups including one saw Patrick Reed stating in an interview that blame was on captain Jim Furyk for benching him and for not playing him and Jordan Spieth together. However, Stricker is focused on putting this behind them and focusing on the task ahead and after speaking to Reed, stated,
"We had a good conversation. I kind of asked him what to expect and he said, 'I've got your guys' back, I'm there for the team.' He's every bit committed. He knew what happened and was not comfortable with it, not happy with how that transformed. We're here about moving forward, pointing toward the next team, and I hope to have him as part of this team. We have a long ways to go."
The Mexico Championship starts on Thursday and is the first tournament that allows teams to earn points towards the Ryder Cup. All teams have the ability to earn reduced points at the Worlds this year as well as at the majors and Players Championship. However, full points will not come into effect until the 20202 season gets underway. Considering Stricker, an emotional guy, cried after every one of his dozen PGA victories, bringing home the cup as captain to his home state will be another emotional moment in his golfing career. Commenting, Strickler said,
"I'm an emotional guy. I'm truly humbled. I'm very passionate about this competition. We want to win this more than ever. I want to help any way I can."
The PGA of America announced Wednesday was the timetable for picking of the captain. After the 202 BMW Championship qualifying will end and all remaining picks to the team will be announced. Those punters anticipating the upcoming golf season will find a host of promotional signup offers with leading golf betting sites such as Bet365, who for new punters is offering up to $200 in bonuses. Register today and prepare in advance for the PGA season ahead.