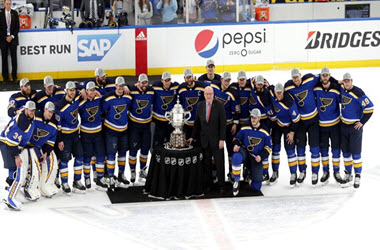 The St. Louis Blues made what many are calling a comeback that will not soon be forgotten, and their efforts have paid off with the defeat of the San Jose Sharks on Game 6 of the Western Conference final on Tuesday night.
It is the first time in 49 years that the St. Louis Blues will have the chance to bring home the elusive Stanley Cup. The moment was a sweet one for Vladimir Tarasenko who scored his eighth in the post-season. Also scoring for St. Louis was David Perron, Ivan Barbashev, Tyler Bozak and Brayden Schenn.
Jordan Binnington stopped 25 shots, and assists went to Ryan O'Reilly earning three and David Perron, Samuel Blais, Cotton Pietrangelo, Oskar Sundqvist and Robert Thomas each getting one. Tarasenko, who racked up a point in every game of the series commented on the win saying,
"We always believed we could do this, but it's still an unbelievable feeling."
Sportsnet
The Blues managed to win the last three games in the series and will now head off to face the Boston Bruins for Game 1 of the Stanley Cup Finals in Boston. While St. Louis worked hard to get to the final, they face an uphill battle against the hard playing Bruins, and for punters wanting to place action in favour of St. Louis, they can take advantage of promotional opportunities when registering with any of our recommended sportsbooks, each with something special in store for punters.
As the buzzer sounded and the Blues recorded their last victory in the series, the arena was filled with the sounds of "Gloria" in celebration of being one of two remaining teams to battle it out for glory and bragging rights. St. Louis made a remarkable turnaround with Coach Craig Berube in November after he replaced Mike Yeo. The addition of Jordan Binnington in January also had a big impact. Commenting on the talent the Blues acquired, General Manager Doug Armstrong said,
"We always had the talent, but we were finding ways to lose games instead of winning them. They turned it around and just haven't stopping going."
Craig Berube was humble in giving credit to the team, their work ethic and willingness to work with the changes to the coaching staff, which followed several months of disappointing results. Commenting, Berube said,
"We were trying to get on the right track. Once we got going in January and February, I knew we had a good hockey team. Once you get into the playoffs, anything can happen — and it did."
What was clear was the St. Louis Blues had confidences they could get the job done. They was evident in their winning the last three games and the constant push to create plays and score goals. Commenting on that success, Colton Parayko, who plays defence for St. Louis said,
"We all bought in and eventually we figured out just how good we can be. It's a tight-knit group. But that adversity, it made us work harder for each other."
The Sharks were without three key players last night. Erik Karlsson, Tomas Hertl and Joe Pavelski were out with injuries, and with San Jose going seven games in each series, it seemed like the energy was drained. San Jose's only goal of the game was scored by Dylan Gambrell, his first with the San Jose Sharks, but it was not enough, not by a long shot.
St. Louis took control right from the start scoring their first in under two minutes, their second in the latter part of the first period. It set the tone for what was to come, and the Sharks were left eating leftovers. Brayden Schenn made it 3-1 midway through the second, Bozak added another to put the Blues up 4-1 and Ivan Barbashev tipped in an empty netter to make it 5-1. Commenting on the excitement, goalie Jordan Binnington said,
"It's excitement and relief. We put in all the work. It's pretty special. The final minutes, counting down and how loud it was in the rink, it was a special moment."