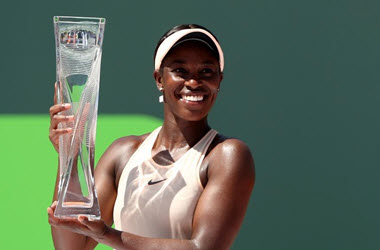 Sloane Stephens entered the court the underdog in the women's final at the Miami Open yesterday. However, it was Stephens who had her hometown crowd support behind her that proved to be the to dominate in the final that saw her winning 7-6 and 6-1 on Saturday.
Stephens wooed her hometown crowd and posed for pictures and autographs for over a half hour after the game and trophy celebration had come to an end. For Sloane Stephens, this will be the last time playing at Key Biscayne as the tournament is moving to its new location to the Miami Dolphins Stadium, and will be one she never forgets being the last Masters tournament to be played near her hometown of Fort Lauderdale.
Commenting after the game, Stephens said,
"This place is pretty special to me. I'm definitely happy I could be the last person to win here. I've had some amazing experiences here, and I'll definitely miss it."
While Stephens was somewhat surprised by the reaction of the crowd when James Blake, the director of the Miami Open tournament mentioned that the tournament was being relocated next year.
"I was kind of confused by that. I'm excited for the move. I think it will be great for the tournament — a new facility. I'm sure it will be beautiful."
WTA
Stephens, who is seeded 13th, and earned her spot in the final after beating Victoria Azarenka in semi-final play,won the match as a result of determination and defense constantly seeing her rallies against Jelena Ostapenko extended until forcing Ostapenko into a mistake. The Latvian has forty-eight errors and twenty-one of those were the result of Stephens's defensive play.
Commenting on Stephens, Ostapenko said
"She was moving really well. Sometimes I was going for an aggressive winner when I didn't have to. I was sometimes missing shots I was normally making this week."
Last September saw Stephens win the U.S Open in what was a surprise to many. She then went onto an eight match losing streak that continued until this week's Miami Open. Going to her hometown tournament while in a slump and winning saw the native Floridian improving to 6-0 when playing in final matches and improving her world rank to ninth.
For Stephens, yesterday win was one of elation,
"It's incredible. I knew if I just got back to the drawing board I would be OK. I wasn't expecting a title here. I just wanted to make sure I got my game back where I wanted to be."
Ostapenko, who won the French Open last year, and Stephens for the most part did battle from the baseline. The quality was at times somewhat ragged and the two had four games where breaks went back and forth. It was Stephens's coach who gave her a pep talk prior to the first set that, for Stephens, made the difference.
"I was a little nervous, and it was showing in my game. My feet weren't moving, and I wasn't swinging through the ball. I just needed a little bit of a reminder to just go for it if I wanted to take the title."
The last six games were all Stephens. The final point saw Stephens send a drop shot that Ostapenko sent back only to have Stephens send the ball over the net to the baseline that Ostapenko was unable to defend. This saw the second set going to 5-1 in Stephens favour and shortly thereafter, Ostapenko overshot a forehand to give Stephens the win in what saw her raising both fists in the air as the family, friends and the hometown crowd cheered.
"Half the people I didn't even know," she said. "It was amazing they came out and supported me. It makes you feel good."
Stephens, for her efforts walked away with a $1,340,860 payday, and Ostapenko earned $654,380 for placing second in the final. This was the second largest win for Stephens who won $3.7 million when she won the U.S Open last year.