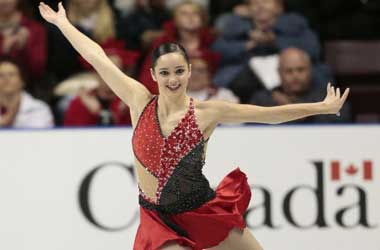 Kaetlyn Osmond, the 21-year- old Canadian figure skater won the Skate Canada International at the Brandt Centre recently with a total of 212.91 points. She performed her magical Black Swan routine to win the medal in the World Championships 2017. Osmond was the Canadian national champion in 2013, 2014 and 2017.
Her first international win was the Nebelhorn Trophy in 2012, followed by her debut in the senior category at the 2012 Skate International. She became the first woman single skater from outside Quebec to win the 2013 Canadian Figure Skating Championships in a decade. Osmond has trained in the Ice Palace Figure Skating Club, Edmonton from the age of 10.
Recently, the young skating champion opened up about the battles that young athletes in aesthetic sports have with their self-images, anxiety and weight issues.
In a statement, Kaetlyn Osmond, said,
Skating is really hard, especially women's skating where we're judged in little tiny dresses
She went on to say that in figure skating, being a weight that's even slightly above the norm makes it difficult to jump as skaters have to deal with lifting more weight into the air.
The National Eating Disorder Information Centre in Canada reveals that female athletes in aesthetic sports such as figure skating, dance, gymnastics, which featured tiny, delicate costumes, were at elevated levels of risk for eating disorders. Other sports including wrestling and endurance sports like distance running also placed athletes at higher risk of eating disorders.
Osmond said that she had to battle weight issues every year as she prepares for different championships. The 21 year old Skate Canada champion said she loves food and is torn between eating what she loves and watching her weight – which is a big struggle for her. Osmond isn't the only figure skater that is facing such challenges.
Yulia Lipnitskaya who represented Russia in the Sochi Olympics at the age of 15 has had to battle anorexia for a number of years. Lipnitskaya won a gold medal during the Olympics even as she battled the disease and had to check into a clinic in 2016. Gracie Gold who represented the United States and came in fourth at the Sochi Olympics is another one who has had to take a break from the sport due to her issues with weight and depression. Kaetlyn Osmond was full of praise for Gold who put her health before the sport and wished her well in her recovery.