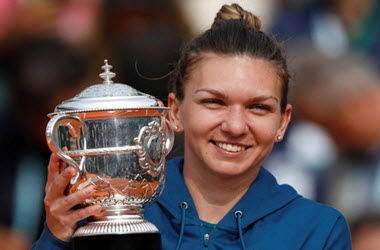 Saturday was a day Simona Halep will remember for a lifetime. It was a day when she won her first grand slam after defeating Sloane Stephens in three sets finally putting an end to losing when a major event was on the line.
After her win, Halep looked back at her previous loses saying,
"All the experience from those three finals that I lost … was a positive thing, and gave me a little bit more power to believe."
This was Halep's first Grand Slam win, and one trophy the #1 ranked tennis star has sought and will proudly display in her trophy case. Facing #10 ranked American Sloane Stephens, Halep beat Stephens in three sets after losing the first at Roland Garros.
At 26, Halep is the first Romanian player to win a major title since the 1978 French Open when Virginia Ruzici won, who coincidently is Halep's manager.
Commenting on the win and describing the match, Halep said,
"That's the most important thing — that I stay there focused. I believed. And I never gave up."
Simona Halep has been in two finals previously at Roland Garros. This first of those was in 2014 against Maria Sharapova, the other was in 217 against Jelena Ostapenko. In both matches, Halep came up short.
Rolland Garros
Darren Cahil, Halep's head coach said that Simona has been kicked a few times when she had the chance to win. He added,
"They say the destination is more beautiful if there's a bit of a bumpy road and you eventually get there. And that's what happened to her today."
The day started out muggy and hot, and Halep seemed to be slow at the start and unable to stop Stephens. Stephens was coming off a victory at this year's U.S Open, and the Miami Open. Both  Halep and Stephens are adept at playing defence and determining how to win using a combination of instinct, skill, speed and power. It was a combination of those skills that saw the two lobbing the ball back and forth as many as twenty stokes in what for many spectators was an epic final.
At the end of the first set, it was Sloane Stephens earning the win. However, once the second set began, it was Halep who had figured out what she needed to do to gain the upper hand over Stephens. After losing the first two games in the second set, Halep won the next four and won the second set.
As the third got underway, both seemed to be feeling the effects of the hot weather and intense play in the previous two sets. It wasn't until the fourth game that Stephens got on the scoring board after losing the first three games of the third set.
Halep kept up the pressure sensing the win was to come playing aggressively and waiting on Stephens to make a mistake. With almost 40 errors in the final, Stephens had to settle for runner-up as fans chanted Simona's name in appreciation and support.
As she won the final match, she dropped her racket, covered her face, and hit the stands to give her coach a hug. For her part, Stephens was not only graceful in accepting defeat but told Halep to raise her trophy high saying,
"You have been waiting for this. So you better put it up in the air and show them what you got today."
For Halep, it was advice she took to heart as she raised her trophy into the air beaming with a big smile. With Wimbledon less than a month away, all eyes will be on the #1 seeded player with hopes she will see a repeat of the French Opens success.