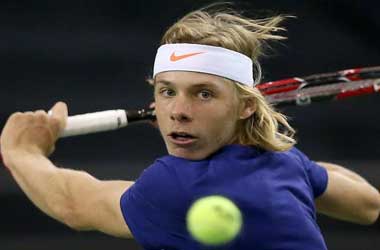 Denis Shapovalov has a great future ahead of him and could end up becoming one of Canada's top tennis players. The 18 year old made it to the 4th round of the U.S Open and had the opportunity of becoming the youngest player since Andre Agassi to enter the quarter-finals but it wasn't to be as he was beaten in the fourth round by the 12th seed Pablo Carreno Busta.
Shapovalov gave the crowd a lot to cheer for as although it finished in three sets, it was a closely contested match. All three sets went into a tie breaker and Shapovalov wasn't able to get that little extra out of himself to win the set. Busta kept his nerve and used his experience well during the tie breakers to win 7-6 (7-2) 7-6 (7-4) 7-6 (7-3). He now moves onto the quarter finals and will face Argentinean and 29th seed Diego Schwartzman.
US Open Tennis Championships
One of the reasons why Shapovalov struggled during this match was because his forehand failed him. Match pressure and the opportunity of playing in the quarter-final could have also played on his nerves but Shapovalov will only get better with time. There is no doubt that he has had a great learning curve at this U.S Open and would have gained a lot of confidence.
In a statement, Shapovalov said
Honestly, it was so much fun to be part of that atmosphere and the match and this whole two weeks. You know, it's another life-changing event for me
World Number one Rafael Nadal has also made it to the fourth round and so has the third seed Roger Federer. Nadal is set to play the unseeded Alexandr Dolgopolov while Federer will also take on the unseeded German Philipp Kohlschreiber. The two veterans have had a tough start to the U.S Open, especially Federer who had two grueling five set matches in his opening two rounds.
Should the two players make it to the semi-finals, they will end up playing each other and give fans at Flushing Meadows yet another opportunity to witness their rivalry which has lasted for over a decade. If Nadal ends up losing to Federer, he will most likely end up losing his world number one ranking.
Former U.S Open Champion Maria Sharapova who received a wild card entry into the U.S Open was defeated in the fourth round after 16th seed Anastasija Sevastova took her out 5-7, 6-4, 6-2.