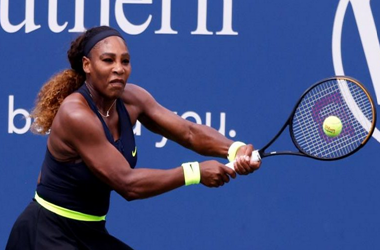 Favoured to win the U.S. Open, Serena Williams found herself having to fight to stay alive during the Round of 32 on Monday at the Western & Southern Open. Considered a prelim to the U.S. Open, Williams's frustration could be heard reverberating off the walls of the empty stadium.
Williams came out strong against expecting a rather uneventful match. However, No.72 ranked Arantxa Rus forced Williams into a tiebreaker after winning the second set and putting up a fight in the third. The match was one of Williams longest matches in recent history, but one Williams managed to win 7-6 (6), 3-6, 7-6 (0) to advance to the Western & Southern Open final 16.
The absence of fans clearly had Williams having to adjust as she fought to get into the groove. Commenting, Williams stated,
"I had a crowd in my head or something, for me, it was like there was a crowd there."
Rus was able to mount a defence against Williams with a combination of left-handed baseline stokes. That saw Williams struggling and giving up four back-to-back games during the second set and again in the third, which ultimately forced the tiebreaker. Rus pushed herself to within two points of victory, but after a double fault, a defiant Serena Williams took control and edged out the Danish player for the win. Williams showed her determination and the skills that have helped her win Grand Slam after Grand Slam.
WTA
At 38, has not been a staple on the circuit and the lack of competition showed after Rus was able to push Williams to the brink of elimination. Speaking to the media after the nearly three hour match, Williams stated,
"I did hit a wall today in the second set, I was so hot. That never happens, so I think physically, I'm fit. Tennis is mental. You know, it's all mental."
The Western & Southern Open was moved from its usual locale of Ohio to the home of the U.S Open in New York City. The move, resultant on the pandemic, has seen a number of top players failing to advance including Karolina Pliskova and Sofia Kenin, and it seemed that Williams and Naomi Osaka might join the list.
However, in her match, Osaka was able to score twelve aces to edge out Karolina Muchova as did Williams, who scored fourteen, with one being clocked at over 120 mph. Williams will now move on to the final 16 where she will face Maria Sakkari. The Greek player pulled off a two set win (6-4, 7-6) on Monday over 16 year old Yulia Putintseva.
The Western & Southern Open is the first major tournament in the U.S since the pandemic scuttled sporting events around the world. A lead up to the U.S Open, it is a prime opportunity to gauge the conditioning of the top ranked players, and a perfect opportunity to score a substantial sign up bonus with Bet365, a leading online sportsbook offering up to $200 in new player bonuses.
On the men's side, Andy Murray advanced after a three set victory over Alexander Zverev. After winning the opening set, Murry gave up the second, but Zverev faltered in the third after he racked up eleven double faults. Reilly Opelka beat out opponent Diego Scwartzman in two sets to advance, while Tennys Sandgren earned a victory over Canadian Felix Auger-Aliassime after he accumulated fifteen double-faults. Also advancing to the final 16 on Monday was John Isner, Novak Djokovic, Milos Raonic and Daniil Medvedev.