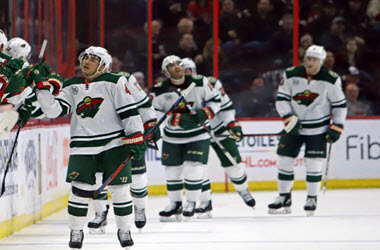 The Ottawa Senators came out strong as they visited Minnesota, and again, fell short after succumbing to the Minnesota Wild 4-3.
Ottawa continues to struggle with their loss to the Minnesota Wild being their seventh consecutive and with it the Sens drop to the bottom of the Atlantic Division and last place overall in the league. Matt Duchene, who plays center for the Sens stated that Ottawa left behind what helps them win games in the second period adding,
"We weren't playing bad, but we weren't playing the way we were and they get three goals and obviously two of them are kind of fluky, but that's just the way it's going right now."
Minnesota's Zack Praise scored one goal and earned two assists, Jordon Greenway also scored one goal and Jared Spurgeon scored twice. Earning assists for the Wild were Charlie Coyle, Mikael Granlund, and Eric Staal.
The only good news for the Ottawa Senators is that Jean-Gabriel Pageau will join the team after recovering from a torn Achilles suffered during training camp. Mark Stone and Ryan Dzingel each scored for Ottawa and Cody Ceci, Dylan DeMelo, Bobby Ryan, Zack Smith and Christian Wolanin earned assists. Anders Nilsson, who made his Senators debut, had 22 saves commented that,
"It's always good to get the first game, but obviously I would have hoped for a better result. There's nothing I can do about it now, it's just turn the page and it's a new day tomorrow and a new game."
Sportsnet
Jared Spurgeon, who scored twice in the second of their four game road trip, but Bruce Boundreau, coach of the Wild, felt they play poorly in the first period and that they managed to stay in the game because of Dubnyk. Commenting, Boundreau stated,
"It was almost totally opposite of the Toronto game where he had a rough start and the team played really well. If he hadn't played as well as he had we probably would have been down three by the ten-minute mark I figure. Once we got our skating legs we started to go a little better."
The loss did little to help the Senators, who continue to fall short on expectations and wins leaving oddsmakers little confidence in the team, which for punters, is information that can serve them well with sports betting sites such as bet365, who for newly registered players is offering up to $200 in signup bonuses.
Ottawas coach, Matt Duchene, continued adding that,
"Sometimes it takes something extraordinary to get out of a skid like this. We're going to keep pushing; we're not packing it in. There's lots of hockey left to be played and hopefully we can work our way out and things will start bouncing a little bit more, but it's tough right now."
Minnesota took an early lead going 4-2 in the third after Praise collected a rebound but the Sens managed to reduce that lead to 4-2 giving hope that an end to their losing streak might follow, however, even with a one man advantage, were unable to put up much of a challenge against the hard driving Minnesota Wild.
Ottawa will next welcome the Carolina Hurricane on Sunday for a 1pm game, before having two days off and heading out on a three game road trip. Minnesota will make a pit stop in Montreal for a Sunday evening game against the Canadiens and then head to Boston to face the Bruins on Tuesday.