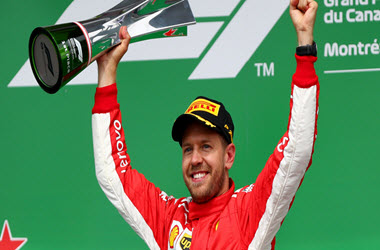 Sebastian Vettel celebrating after winning the Canadian Grand Prix at the Circuit Gilles-Villeneuve[/caption]
The Canadian Grand Prix belonged to Sebastian Vettel and Ferrari this year, from pole position to checkered flag, Vettel was in control setting the pace for the others to follow.
Ferrari fans were everywhere, and a sea of red could be seen within the packed grandstands as Vettel stood on his car after earning pole position, and of course, as he crossed the finish line at the Circuit Gilles-Villeneuve.
This was the first win in Montreal for Ferrari since Schumacher won it in 2004. It was for Vettel, his 50th Formula 1 victory and a crowning achievement for this F1 champion, who when with Team Red Bull earned four championships before moving on to sign with Ferrari.
The pre-parade lap was a celebration of Berthierville, Quebec's Gilles Villeneuve, who the circuit is named after. It was his son who hit the track in the same car his Dad 1978 Ferrari around the circuit – a touching moment for fans, a touching moment for Jacques and for Quebec.
The emotion and importance of the anniversary was not lost on Vettel, who after the race said,
"Like every grand prix there's not one person to dedicate it to. I dedicate it to the team and to the Canadian Ferrari fans.
Vettel added that he felt fans had waiting long enough for Ferrari to earn a checkered flag in Montreal again saying,
"Forty years after Gilles won his Grand Prix here, I think it's great to show that Ferrari's still alive, winning races. I'm extremely proud to become part of that story. Hopefully a bit more in the future."
The Canadian Grand Prix is famous for accidents, and for the most part, this year's race was uneventful after Brendon Hartley hit the wall coming out of chicane slamming into the wall and coming in contact with Canadian driver Lance Strohl, who was racing at his hometown track.

Sebastian Vettel's 50 #F1 wins:

4 🇯🇵🇲🇾🇧🇭🇸🇬
3 🇮🇹🇦🇪🇧🇷🇦🇺🇰🇷🇮🇳
2 🇪🇺🇲🇨🇧🇪🇭🇺🇨🇦
1 🇨🇳🇬🇧🇹🇷🇪🇸🇩🇪🇺🇸#F1FastFact pic.twitter.com/9vlAcH3XHz

— Formula 1 (@F1) June 11, 2018
The only other mishap was race officials got the lap count wrong showing it was the last lap when one more was remaining. Considering many fans run onto the track after the last lap – it could have gone bad.
Speaking on the mishap, Vettel said,
"On my steering wheel they have the lap count and it showed one more lap to go. I even watched on TV and it said 'final lap.' I asked and they said 'keep pushing.' I was a bit confused. Some of the marshals were already celebrating. I think they peaked a bit early, but most of them are men so it might happen. But overall, it's been a great day."
The race was uneventful with the top three on the grid maintaining their positions throughout the race. Vettel led the pack with his Ferrari, Bottas and Verstappen in their Red Bulls were second and third. Vetell made only one pit stop for fuel and tires midway through the race returning with a six-second advantage.
Monaco's race winner, Daniel Ricciardo, finished fourth just ahead of Lewis Hamilton. For Hamilton, the weekend was not as he had hoped after Mercedes new engine was not ready. Hamilton is a six-time champion at the Canadian Grand Prix having won the previous three races.
With the win under his belt in Montreal, Vettel took the lead in the drivers' standings by a single point.
Mercedes knew that this would not be a winning weekend and were pleased to have two top 5 finishes. Commenting on the race, Valtteri Bottas said,
"With the start we had, with the race we had, there was nothing more we could do. Ferrari was better than us this week, with the Red Bull very close to us, so I think there was nothing we could have done better. Our car wasn't good enough, so I won't get too upset."
The F1 circuit now heads to Austria for the Austrian Grand Prix on the 1st of July. For Bottas, the defending champion, he is hopeful that the new Mercedes engine will be ready to go and he will have a solid performance.