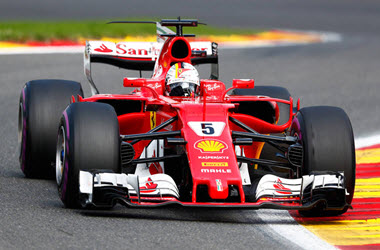 Sebastian Vettel may be behind rival Lewis Hamilton in the point's race, but after experiencing a problem with steering in the practise session, Vettel returned to the Circuit Gilles Villeneuve and left the others in his wake setting the fastest time and earning pole position, his 54th.
After a tough day, Vettel was left to wait and see and stand aside to wonder if he would not be competitive. Speaking to reporters, Vettel said,
"Yesterday, I wasn't really in charge. More of a passenger. Today was a lot more natural."
The circuit in Montreal is 2.71-mile, and with Lewis trying to earn another pole position start in the tight circuit course, Vettel came out and covered the distance in 1 minute, 10.764 seconds. Hamilton had to settle for fourth on the grid. This was the first time since 2013 that Vettel has earned pole in Montreal.
For Ferrari, pole position has a special being that it was their first pole position since 2001 when famed driver since Michael Schumacher did the same.
Speaking on earning pole for Ferrari, Vettel said,
"Being on pole here with Ferrari means something extra. Gilles Villeneuve, the favourite driver of Enzo Ferrari, and I think his charisma, his character that he brought to Formula One, to racing in general, is still alive today."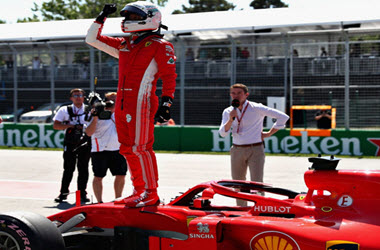 Joining Vettel at the front of the grid is Mercedes driver Valtteri Bottas. He ran the course in 1 minute, 10.664 seconds, a mere tenth of a second behind Vettel. Max Verstappen takes the third spot and Hamilton fourth, and row three will see Daniel Ricciardo and Kimi Raikkonen.
Mercedes and Ferrari were performing engine updates but failed to get them ready before qualifying got underway. They also chose to use less of the software tires, and that saw slower lap times for Hamilton.
Speaking on the engines not being ready, Mercedes's Valtteri Bottas said.
"The numbers are just in theory, but there would have been gains. I think it would have been a close fight for the pole with the new engine. But we're going to get it later anyway, so that's all good."
This season has been a back and forth battle between Sebastian Vettel and Lewis Hamilton. For Lewis Hamilton, who sits atop the leaderboard, he commented that,
"As difficult as days like today are, there's no points today. The points are tomorrow."
The first two races of the season saw Vettel claiming victory with Hamilton hot on his heels. With Hamilton's taking second and third Australia and Bahrain, winning in Azerbaijan and Spain, and placing in the top five in China, Bahrain and Monaco, he has succeeded in pushing Vettel into second. A win for Vettel in Canada would close that gap.
Vettel had trouble with traffic entering the track and slowing him down during qualifying. Complaining over the radio about being slowed down, Vettel said in post-qualifying interviews,
"It's never happened to me. Either they weren't told or they weren't looking. … I had to abort; there was no chance to slalom around them. It was a bit surprising. There was no way for me to carry on."
With race day to get underway on Sunday at 2pm in Montreal, weather Vettel will be able to make it to the checkered flag without trouble and hold back Lewis Hamilton will be seen. After pre-race controversy surrounding Kimi Raikkonen, a positive finish would be welcomes news.