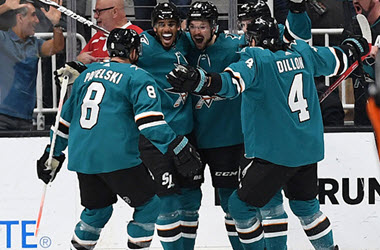 The Colorado Avalanche and San Jose Sharks hit the ice in San Jose Wednesday night for Game 7 on a mission, but it was the superior gamesmanship of the Sharks that saw them come away victorious and advancing to the Western Conference final.
Last night's game was the first for Joe Pavelski after suffering a ghastly head injury in Game 7 against the Las Vegas Knights and he celebrated by scoring one goal and earning an assist helping lead the San Jose Sharks to a 3-2 victory. Also scoring for San Jose was Tomas Hertl and Joonas Donskoi. Goaltender Martin Jones stopped 27 shots, while Hertl, Evander Kane and Melker Karlsson earned assists and Brent Burns earned two.
Joonas Donskoi goal brought an end to going nearly 40 games without a goal. The timing couldn't have better as San Jose took advantage of a play reviews after Colorado looked like they had tied the game but after reviewing, it was overturned by officials.
Sportsnet
The Sharks will now face the St. Louis Blues and for punters and oddsmakers, the two teams are both equally successful. However, currently the San Jose Sharks are currently being slightly favoured, and those wishing to place wagers on the upcoming game can do so with leading sportsbooks such as Bet365, an innovator in online sports betting.
Tyler Jost and Mikko Rantanen scored for the Colorado Avalanche, and Philipp Grubauer stopped 24 shots in what was, their first attempt to make the Western Conference final since 2002. With home ice advantage, the crowd support showed early, especially when team captain Joe Pavelski stepped out onto the ice.
That support increased dramatically when Pavelski it was announced that Pavelski would be a starter in what could have been his last game before going into free agency in the summer. It took the captain a mere six minutes before he made his presence known scoring the opening goal after deflecting a shot by Brent Burns past Grubauer.
Pavelski was also instrumental in Hertl's goal after setting him up with a pass behind the net who scored to give the Sharks a 2-0 lead. Colorado was without Nathan MacKinnon after the first period after the star player hit the boards. However, he returned later in the period after being checked by the training and medical staff. MacKinnon was able to covert several plays to create scoring opportunities including one that helped Rantanen score to bridge the gap by one.
It appeared that Colorado had tied the game in halfway through the second after another setup play by Mackinnon resulted in a goal only to have it challenge by Peter DeBoer for offside. After reply evaluation, it was ruled that Gabriel Landeskog was offside and the goal was overturned.
Shortly thereafter, San Jose's Joonas Donskoi made it 3-1 with a wraparound shot that got the better of Grubauer and Colorado managed to score in the final minute, but it was not enough to tie the game and force overtime.