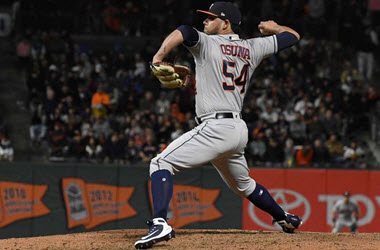 Roberto Osuna took to the mound in his first game with the Houston Astros and made a good impression with his new team, needing only five pitches for a perfect inning. After the Houston Astros took went to bat in the ninth inning on Monday night, it was Marwin Gonzalez who hit a homer that saw three runs batted in and with two outs already set in stone, it saw Osuna earn his first win with the Astros as they defeated the Giants 3-1.
Monday night's game was an important one for Osuna after coming off a 75 game suspension and being traded by the Blue Jays to the Astros. Osuna faced disciplinary action from the MLB over allegations and charges of domestic abuse in May of this year. While the charges are still pending, not many details surrounding the incident have been made public. Osuna is scheduled to appear in a Toronto court in early September to address those charges.
Osuna, commenting on his new teammates and opportunities the trade gives him said,
"Especially like being in such a great team with great teammates, it's easy to forget about the stuff that's going on off the field, and being able to play and help the team win is unbelievable. I really like my teammates. They've been treating me with a lot of respect, and I'm really comfortable."
Osuna met with the Astros in a closed door meeting after he completed his 75 game suspension. For many analysts, they were displeased over the lack of information relating to the meeting, but more importantly, the fact that many feel a double standard is taken when it comes to the MLB versus the NBA. ESPN's Stephen A. and Max were first to react and clearing were displeased with how the situation played out.
ESPN
Last week the Blue Jays and Astros agreed to a trade that saw Osuna heading to Houston in exchange for Ken Giles. Osuna was eligible to begin pitching on the 5th, and when brought in as a relief in the 8th, he was met with some boos, but Osuna kept his focus on the job at hand and quickly retired those that came to bat.
A.J. Hinch, manager of the Houston Astros said,
"It was a quick look obviously with five pitches. He's got a good arm. First game back is always important, it's the next step for him to get incorporated into our games, coming away with the win. A good first impression on the field."
Will Smith, the Giants closer failed to get the job done and missed his second opportunity to save the game after walking Yuli Gurriel and Alex Bregman. This led to Gonzalez coming to bat, hitting a home run and driving in three runs to give the Astros the win. San Francisco's Brandon Crawford earned the only run for the Giants
Dereck Rodriguez managed to strike out seven without any walks and only gave up three hits. Charlie Morton saw eight retired with only three hits and three walks. This is the loss for San Francisco when Rodriguez started and only his eleventh game in his rookie year. He is considered one of the top rookies of the season.
Rodriguez, who in his last ten starts allowed fewer than three runs, on the game saying,
"I take it in after every start. I enjoy it, I think about it a lot of the time but when I'm out there it's just me, Buster Posey and the hitter, whoever's hitting, so I think that's what's helped me get to the point where I'm at, my concentration when I'm in the game. It's awesome being in the situation I'm in."
For MLB punters, what is clear is that Osuna will be one to watch as it unfolds. Those wanting to place bets on upcoming MLB games will find a wide range of promotinos geared for MLB betting. Why not take a look at our list of respected MBL Sportsbooks, all of which are ideal for Canadian punters looking to get in on the action. Sign up today and claim a lucrative welcome bonus!