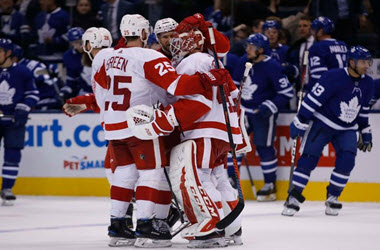 Thursday was a big night for the Maple Leafs, it was the first time teammate William Nylander took to the ice since the end of last season. One would have expected Nylander to be the freshest guy on the ice, but that was not the case.
Nylander has not had any practise time this season after a prolonged impasse over his contract with the Toronto Maple Leafs. That ended last weekend when the two sides finally reached a 6 year US$45-million agreement at the final hour before the deadline came to an end.
Toronto failed to show many signs of life in the opening two periods last night against Detroit Red Wings, and it cost them the game, even though they scored four goals, it was the Red Wings who seemed to want it more.
Andreas Johnsson, Kasperi Kapanen, John Tavares and Zack Hyman scored for Toronto, but as the game went into overtime, it was Detroit's Dylan Larkin who scored the winning goal 2:48 seconds into overtime to give the Red Wings a 5-4 victory over the Maple Leafs and bring an end to their five game winning streak.
Nylander didn't arrive in Toronto until Sunday after flying in from his native Sweden. He joined the junior team for practise and the Leads for drills twice before joining the morning skate on Thursday. Nylander had a strong year last season earning 61 points and was on the ice for over 12 minutes last night, but those 12 minutes didn't come until the third period.
Sportsnet
While the Leafs failed to win last night, they still remain in second place in the NHL. With a young team and the return of William Nylander, punters are in a great positon to capitalise on the winning season Toronto is having, and make no mistake, sports betting sites such as bet365 have taken notice. With up to $200 in sign up bonuses available, punters are well poised to maximise their returns this season.
When quizzed about Nylander's absence from the first two periods, coach Mike Babcock stated,
"It has nothing to do with Willy, it has to do with me and trying to win the game. Any time you've missed that amount of hockey, it's going to be hard."
Things looked positive for Toronto after scoring three goals in less than nine minutes to re-enter the game. The reception for Nylander was, for the most part, positive when he joined Patrick Marleau and Auston Matthews. Nylander said he felt ok on the ice, but there is a difference between practice and playing.
Luke Glendening, Gustav Nyquist, Dylan Larkin, Jonathan Ericsson and Mike Green each scored goals for Detroit. Assists were earned by Nyquist, Green, Larkin, Martin Frk, Niklas Kronwall, Thomas Vanek and Jacob de la Rose. For head coach of the Red Wings, Jeff Blashill, he stated,
"We were better than them for two periods. Our guys battled extremely hard and I'm proud of the way that they played."
Garret Sparks had 27 saves for the night and continues to perform well after Frederik Andersen sat out after four starts and 40 plus shots. Commenting on the game, Sparks said,
"We were able to battle back and get a point and that's all kudos to the guys in front of me. What happens from there … got to make another save."
Auston Matthews, who was off for 14 games due to an injury to his shoulder was playing his fourth game since returning. Things looked tense after Matthews took a nasty hit from Niklas Kronwall that saw him grimacing on the ice but was able to get up on his own without further aggravating his shoulder.
Toronto now hits the road for a two game road trip, first visiting Boston on Saturday before heading to North Carolina to face the Hurricanes.