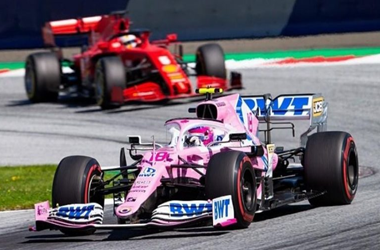 On Wednesday, it was announced by Sergio Perez via social media that he and Racing Point will be parting ways. Rumours had been swirling over the last several months Perez was looking to make a move and that Sebastian Vettel would take over the after the team announced it would rebrand itself as Aston Martin.
Sergio Perez, who was under contract with the team for next season, stated he would remain until the end of the season. The popular Mexican driver, who has driven for Racing Point for seven years, commented on the decision stating,
"Everything in life always has a beginning and an end, and after seven years together, my time with the team will come to an end after the season. It hurts a bit as I bet on the team during very rough times."
Perez, who alerted to the obstacles the team overcame, said he is proud to have been a part in saving some team member jobs. Perez added that he will remember the memories and satisfaction of always giving my all before adding,
"I will always be grateful for the opportunity given to me by Vijay Mallya, who believed in me in 2014 and allowed me to continue my F1 career with Force India. To the current administration, led by Lawrence Stroll, I wish nothing but the best in the future, especially with the upcoming Aston Martin project."
Sky Sports F1
While Sergio Perez is without a ride for next season, there is speculation he could sign with Hass or Alfa Romeo. During his time with Racing Point, Perez failed to secure a victory but has eight podium appearances in 184 starts. Those achievements and contributions were not lost of Otmar Szafnauer, the team principal for Racing Point, who confirmed Perez's exit from the team. While addressing the changes for the upcoming season, Szafnauer stated,
"Checo has been part of the Silverstone family for seven years and in that time has become one of the most complete drivers on the grid. Blisteringly quick on Saturday and Sunday, he's established his reputation as a tenacious racer and together we have enjoyed some fantastic moments. If there was ever a sniff of a podium, Checo was ready to pounce, and those five podiums represent some of the finest days in the history of this team. Outside of the car, Checo is a true character and a good friend, and it's been a pleasure working with him for such a long time. Although we will say goodbye at the end of the year, there are still nine races to go and plenty of opportunities for Checo to make some more special memories with this team."
It was also announced this week that Sebastian Vettel, whose time with Ferrari is coming to an end at the end of this season, will be joining Racing Point. A four-time world champion, Vettel has been linked to take over the lead driver role after the team rebrands for next season.
Vettel, at 33 has struggled with Ferrari this season and clearly, the two were at odds over strategy and car performance. It is expected he will remain with Racing Point beyond next season. Commenting on his signing with Racing Point, Vettel stated,
"I am pleased to finally share this exciting news about my future. I'm extremely proud to say that I will become an Aston Martin driver in 2021. It's a new adventure for me with a truly legendary car company. I have been impressed with the results the team has achieved this year and I believe the future looks even brighter."
Vettel will be joining Lance Stroll, whose father is a co-owner of the team. While Stroll has been unimpressive in previous seasons, the Canadian has matured as a driver and seen the 2020 return positive results. With two podium finishes, and the addition of Vettel next year, the two are prime candidates for bettors hoping to score a victory, and with bookmakers such as bet365 offering up to $200 in signup bonuses, the new season is looking to be interesting as drivers battle for team positions and results. Stroll's improvements and energy have not gone unnoticed by Vettel, who while speaking with the media stated,
"The energy and commitment of Lawrence to the sport is inspiring and I believe we can build something very special together. I still have so much love for Formula 1 and my only motivation is to race at the front of the grid. To do so with Aston Martin will be a huge privilege."