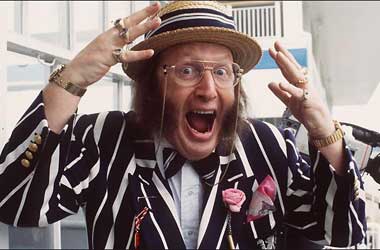 Long time racing fans will be sad to learn that John McCririck has just lost his age discrimination case against Channel 4 and IMG Sports Media. One of racing's most colourful characters having been on screen for over 29 years in various roles he took his case to an Employment Tribunal recently and the result of his case was finally decided upon yesterday the 13th of November 2013.
John McCririck had been dropped from the new look Channel 4 racing programmes when IMG Sports Media won the contract to produce the racing output for Channel 4 at the start of 2013, he was not the only presenter to be dropped from the team as we also saw other very well respected and much loved presenters and racing reporters dropped from the shows line up.
These included Leslie Graham, Derek Thompson, Mike Cattermole and Alistair Down, another presenter and long time team member ex jockey John Francome also decided to leave the show when the previous production company, High Flyer Productions lost the contract to produce the show.
Whilst John McCririck is a bit like Marmite, you love him or hate him, there can be no getting away from the fact that he knew the world of horse racing inside out and John was never afraid to speak his mind on all manner of topics surrounding the sport he loves.
Viewing figures for the Channel 4's Morning Line programmes and their main afternoon shows has dropped quite dramatically since these presenters where binned, and having been following the case and having read the Employment Tribunals report I have to say the way they went about ending the presenters and reporters contracts was quite appalling.
In fact John McCririck was telephoned whilst his was on his annual holiday in the USA to be told he was being dropped from the team and a press release was then sent out by Channel 4 telling the world about the new line up which did not include any of the aforementioned presenters and reporters minutes after they phoned John up.
We wish John all the very best for the future and long may he reign on the At The Races television channel which is available to Sky viewers, the man in my opinion is one of the most knowledgeable men in the industry and is going to be another channels gain and a loss for Channel 4's racing coverage, well the huge drop in viewing figures tells us that already.