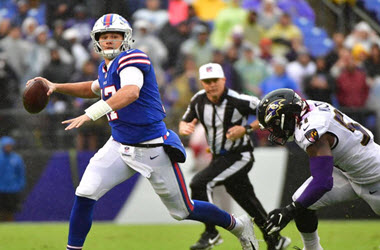 The Buffalo Bills will meet the Los Angeles Chargers on Sunday and have chosen their star rookie, Josh Allen as their starting quarterback. With his size and arm, the Bills believe he has the chance to take over as their permanent starting quarterback – a big opportunity for a rookie.
This will be Allen's first start in the NFL and he is replacing Nathan Peterman, who has a brutal loss (47-3) in the first week against the Ravens. Peterman threw two interceptions in the game and, by the second half, was replaced by Allen.
Bills coach, Sean McDermott refused to go into detail about the decision to start Allen against the Los Angeles Chargers, saying only that it was the right choice for the Bills. He added,
"We talk a lot in-house about decisions and things and what we've got to do and the right move at the right time, and right now, with all respect to your question, this is the right move for us."
This was a big move for the Bills, whose intentions were to develop Allan at a calculated rate before he joined the lineup. He has a strong arm and was 7th overall in the draft this spring. He has the tools physically but at the time of the draft, was one the Bills believed was ideal for development.
However, that changed in the game against the Ravens and the Buffalo Bills hand was forced to make the change after a loss that was one of the worst in the history of the Buffalo Bill franchise. After the game while talking to reporters, LeSean McCoy, running back for the Bills said,
"Whoever's the quarterback, we've got to roll. I'm confident in Josh. He's very talented, he's extremely smart, intelligent. So I'm happy with the move. Nate's a good friend of mine, he had his shot. We've got to move on. That's the type of business this is."
ESPN
While his first start is significant, Allen played it down but did acknowledge this was a dream of his. He stated that he has some experience and now is starting a game. He added,
"I'm just looking to do my job, try and be 1/11th of this team and this offence, and just help this team in any way possible to win football games. Obviously I'm super excited and thankful for the chance to be the starter of this team. This is something I've dreamed for a long time. But now that it's here, come Sunday I'm just trying to do my job. I'm not trying to do too much. Trust in those around me and ultimately trying to be the quarterback that this team needs."
On Sunday he got a taste of what it is like to play in the big leagues after he entered the game after Peterman was pulled. Allan experienced the usual mix of growing pains in his first game, passed for 74 yards, made six of fifteen passes, and felt the fury when sacked three times.
However, coach McDermott felt Allen showed positives and did not allow himself to become overwhelmed by the circumstances and showed command of the offence. McDermott added,
"There were some things that he did well in getting us in and out of the huddle. Those are the things you don't take for granted when a young player's out there. And then after the snap, executed fairly well at times, and there were other times where we need to execute better."
McDermott further added that it is not only the QB's that seemed to struggle, and the other positions will need to give more if they are to rebound from the devastating loss. Considering Peterman was making his first start, the bright side is going forward, it couldn't get much worse for him as he enters his second season with the Bills.
LeSean McCoy, a seasoned veteran with nine years in the NFK under his belt, added,
"The one thing I'm going to talk to the offence about, especially the skill guys, is that (the key) for a rookie quarterback to have a good game is to make it easy on them. Catching the ball, giving him confidence, moving the chains … everything to get that extra advantage is critical and big for a rookie's confidence. If I had to draft a quarterback, I would draft a kid like him," McCoy added. "He's mobile, he's tall, he's strong. He's not afraid, he's smart and has a big arm."
With the NFL season started, bettors wanting action will find a wide variety of NFL friendly sports betting sites that are offering good odds and special promotions. One of those betting.ca recommended is Bet365, one of the leading online sportsbooks. With a sign-up bonus worth up to $200, a regular host of promotions such as the NFK Early Payout, bet365 gives you the best of sports and then some. Register today and place your bets early.