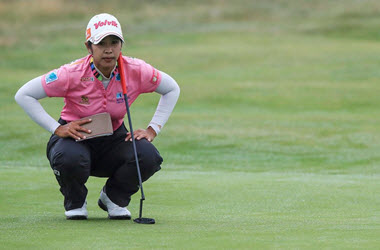 Pornanong Phatlum managed to hold on to the one-shot overnight lead she achieved at the end of Saturday's third round at the Women's British Open.
The Open is currently being hosted at the Royal Lytham & St Annes, and in a recent post-match interview, Pornanong revealed, singing tunes in her head helps to control her nerves calms her down before she gets overly nervous.
Phatlum admittedly struggles on; however this time kept her calm and her lead without any signs of an apparent struggle. Pornanong managed to birdie her 3rd, 6th, 8th, as well as 11th holes but managed to drop her first shot during this year's major by bogeying the 12th with a par-3. She ended up on a strong 69 after having recorded a solid 3 below par for the day, strengthening her prospects of capturing a first win of any major title, providing a great opener to start her future LPGA Tour trophy case collection.
Overall, she managed to break a 13 under, keeping her playing partner, England's Georgia Hall, one stroke behind. Despite Hall's inconsistent play throughout the round she managed to remain in contention for her first shot at scooping a major title, by picking up birdies on three out of her last four holes, thereby joining Pornanong in Sunday's final group.
LPGA
Recording an 11 under, third place belongs to South Korea's Ryu So-yeon, landing her one shot down from Hall in the standings. This after a heroic storming climb up the leaderboard having brokered a running streak of no less than six magnificent birdies, recorded from the 5th to the 12th holes.
So-yeon, who already recorded three top-10 finishes in the Women's British Open championship, stated that winning the tournament has been her main goal for this year, and she felt she was in a pretty good position to do so.
Park Sung-hyun, having twice captured a major championship crown, played a 69 for the day to remain one shot down, to draw equal with Minjee Lee on a 71 and Mamiko Higa also on 71 for the day. With Higa revealing her aim to become Japan's first female golfer to collect a major title as far back as 1977. Smith Falls, Ontario resident Brooke Henderson recorded four birdies only to drop a bogey bringing her a 69 for the day, going 8 under to tie for seventh in the round.
This year several of the leaders intend entering the history books, with Pornanong wanting to be the second female in Thai history to capture a major golf championship, emulating Ariya Jutanugarn's feat from 2016. While England's Hall would become the first English(wo)man to capture the Women's British Open since Karen Stupple's record breaking 19-under-par victory in 2004.
Pornanong will need to continue singing to herself to get her through the final round, while Hall will hope her superior experience levels reign supreme, to get her past last year's third-place tied finish.
Hall, in her interview, revealed,
"It was great to get so much support. I haven't really had that before because I play in America quite a bit. There were so many people behind me that I feel that was the reason I had good shots."
Interested punters looking to place bets in this years final for the Women's British Open will find a great selection of Canadian friendly sportsbooks, all of which are offering favourable odds and generous welcome bonuses. Why not take a look and register with one of our recomended golf sportsbook sites today?