Ottawa Senators GM Not Worried About Making Stanley Cup Playoffs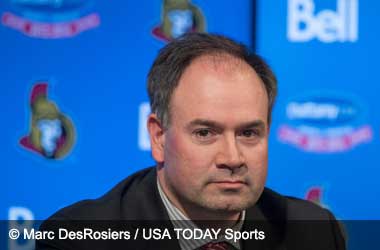 Summary
Ottawa Senators have another 19 games left to see if they can make the playoffs
GM Pierre Dorion says goal this season is to get better, no pressure to make playoffs
Ottawa Senators sale process will not impact his focus on the team
The Ottawa Senators have not had a great run this season as they currently sit (33-30-4) before their game against Colorado Avalanche.
They have 19 games left to see if they can surpass the New York Islanders and see if they can get the second wild card to qualify for the Stanley Cup playoffs.
Senators Goal This Season Is To Improve
It's the goal of every NHL team at the start of the season to do well and make it to the playoffs of the Stanley Cup. However, Senators GM Pierre Dorion says that at the start of the season, the goal was to get better with every game. Dorion says he never had an unrealistic expectations going into this season that the Senators would make it to the playoffs.
Dorion said that he was very realistic with his expectations because he knew where the Senators were at in terms of performance and what they needed to do to improve and get to a place where they become a real dominant force. Dorion went on to say that if the Senators end up making the playoffs this season, it will be a bonus but the end goal was to get the team going in the right direction and to get better with every game this season.
Dorion Impressed With Young Players This Season
Dorion is looking to build a strong core centred around young players and he is happy with the progress so far. Dorion said
The best thing for our team is the growth of our young core this year and that's what's happening with all these young players except for one, Josh Norris, who is hurt. They're growing through this run of trying to get into the playoffs. That's the best and biggest growth that we could have.
The Ottawa Senators are currently up for sale and there's a lot of talk about who will be the new owners and what will the Senators look like once the new owners take over. Speaking about the potential sale, Dorion said that he does not get distracted by what is happening behind the scenes and is focused on the team and improving their overall performance.