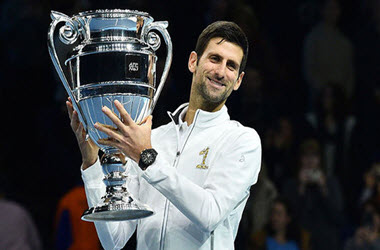 The Men's ATP Finals has already seen its share of debate after the opening rounds saw conditioned debated on if they were stacked heavier than in previous years. That debate was brought to a quick end after Novak Djokovic succeeded in defeating American John Isner on Monday 6-4, 6-3.
It saw Djokovic earning his sixth title at the end of the season tournament. It was that same tournament that saw top-ranked player Roger Federer losing to Kei Nishikori on Sunday and also one that saw Alexander Zverev describing court conditions as challenging. Both top players seemed to struggle with each registering multiple errors.
In post-match interviews, Novak Djokovic, who has racked up four titles at the end of the year tournament, said,
"My results here have been pretty good in the last 10 years, so I can't complain too much. It takes a little bit of time really to get yourself adjusted to the surface because the surface is a good surface."
Djokovic played down his ability to quash Isner's devastating serve after the tournament came to a close. John Isner was the oldest player at the end of the season tournament and stood his ground only being broken once during the first set and twice in the second.
Isner stated that the tournament was amazing and that he has wished to given the crowds more to cheer about. The first set break by Djokovic seemed to strand Isner after the forehand cross-court return winner.
TennisTV
For Djokovic, it was nice to see other notable professional athletes in attendance such as Cristiano Ronaldo, and it seemed to give him the extra energy needed to get the job. Commenting, Djokovic said,
"It's great to have big football star, sports star like him, courtside watching tennis."
With the second set tied 3-3, Isner sent a blistering 126 mph serve that would see most be falter by, but Djokovic fired it back and stunned Isner as he sent his return long to go down two break points.
Isner then made a forehand error, and it was the beginning of the end. Djokovic was merciless holding serve before he broke Isner one more time with a near perfect backhand for match point. It saw Isner conceding that he was pretty comprehensive out there.
The end of the tournament brought an end to the 2018 ATP tournament season as the WPT had their final in October and saw Caroline Wozniacki defeating Petra Kvitova 7-5, 3-6, 6-2. The ATP 2019 Tour gets underway in Australia for the Brisbane International for heading to Auckland for the ASB Classic.
With a packed schedule in 2019, tennis punters will have multiple high profile tennis tournaments to be on, and with a respected list of tennis sports betting sites offering generous signup bonuses, preparing early is key to a successful betting season that is only six weeks away. Register today and collect your bonus