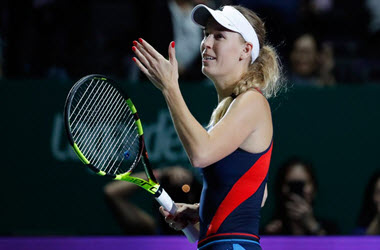 Caroline Wozniacki, the defending champion of the WTA finals earned her first win yesterday against beating Petra Kvitova 7-5, 3-6, 6-2.
The WTA Finals is the last tournament of the season for the top eight players in the world, and with Wozniacki's win, she remains in contention to earn a spot in the semifinals. Also earning a win on Tuesday was Elina Svitolina, her second of the tournament, after she defeated Karolina Pliskova 6-3, 2-6, 6-3.
Caroline Wozniacki, who won the Australian Open to earn her place in the WTA Finals is even with one win and one loss. Wozniacki commented after the match that she felt she played better adding,
"I returned well. I served well. Against Petra, she's so powerful, you have to stay on your game. I just tried to stay focused and get a lot of balls back. I always believe in myself and when I'm out on the court I believe I'm going to win."
Petra Kvitova, who won the WTA Finals in 2011, was taking risks in hopes of unnerving Wozniacki but the unwavering Danish player held her ground and waited for Kvitova to make mistakes. Wozniacki broke Kvitova's serve in the first and fifth games of the final set and then took an unplanned break to have her knee wrapped while down two games to one. Yesterday's loss saw Kvitova make forty unforced errors against Wozniacki's fourteen.
In other WTA news, Sloane Stephens met and defeated fellow champion Naomi Osaka on Monday 7-5, 4-6, 6-1Osaka and Stephens were both making their debut appearance at this year's finals but the more experienced Stephens seems to be more composed, while Osaka never really seemed comfortable.
.@ElinaSvitolina and @CaroWozniacki are both looking to book their semifinal spot at @WTAFinalsSG! pic.twitter.com/6l3KGCIAoD

— WTA (@WTA) October 24, 2018
Both Osaka and Stephens struggled with holding serve. Stephens managed to break service against Osaka nineteen times while Osaka only managed to break twelve. Stephens commented that she was really happy to play a competitive match adding that,
"I never gave up. I knew she's been playing well and I'd have to play really good tennis to beat her."
Sloane Stephens has the lowest qualifying wins in this year's group of eight earned her second Grand Slam win this year at the French Open and also won the title in Miami. For her part, Osaka seemed to allow frustration to overcome her play on Monday and she failed multiple times to capitalise on opportunities, appeared tired and struggled to hold serve.
It was only by chance that she managed to win the second set after Sloan double-faulted in the tenth game. That seemed to give the Japanese player a boost, but it didn't last long with her only managing to hold serve once during the third set.
In post-match interviews, Osaka said,
"I took my five-minutes of being really sad. I just tried to think that you learn more when you lose, so what can I learn from this match and try to apply it to the next match. I think, in a way, that you can only get better every match you play."
The WTA Finals will resume on Thursday as Petra Kvitova faces Karolina Plíšková and Caroline Wozniacki will face Elina Svitolina. Tennis bettors wishing to place bets on the outcomes of either match will find an excellent selection of tennis betting sites offering not only good odds, but also generous signup bonuses meant to help see your bankroll increased with your first deposit. Register today before the WTA season comes to an end.