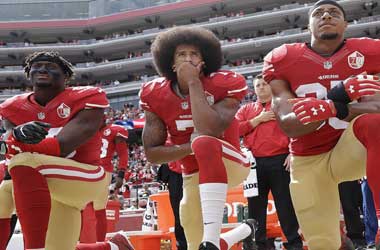 The NFL announced last week that team owners will be meeting this week in New York to discuss a number of issues and one of the key topics that will be discussed is the controversy surrounding NFL players kneeling or sitting during the national anthem. US President Donald Trump has called on NFL owners to fire such players who disrespected the national anthem and has caused a lot of controversy within the league. NFL owners were expected to discuss the issue, make a decision and then roll the same out for all NFL players to follow.
Colin Kaepernick, the player who first started kneeling during the national anthem has now filed a collusion grievance lawsuit against the NFL stating that NFL owners had collaborated to keep Kaepernick from being contracted. Kaepernick played for the San Francisco 49ers and played a major role in helping them win the 2012 Super Bowl.
ABC News
He was faced with a tough situation in March where he had the option of dropping out or face being cut by the 49ers. Kaepernick chose to drop out and since then none of the NFL franchises have showed any interest in signing him.
Kaepernick alleges that the NFL have not been happy with the fact that he started the 'taking the knee' movement and have decided to keep him out of the league. He has hired celebrity lawyer Mark Geragos who confirmed that they decided to move ahead with the lawsuit after doing their best to find a solution with NFL franchises. When nothing worked out in theirfavour, they decided to proceed with legal action. Kaepernick's lawsuit wants the NFL to disclose all discussions that NFL owners have had surrounding him.
In a statement, Geragos said
If the NFL is to remain a meritocracy, then principled and peaceful political protest – which the owners themselves made great theater imitating weeks ago – should not be punished and athletes should not be denied employment based on partisan political provocation by the Executive Branch of our government
President Donald Trump had specifically mentioned Kaepernick's name and stated that his protests were terrible and the NFL should have been dealt with him immediately by suspending him for one game. President Trump said had the NFL decided to take strict action the first time Kaepernick's disrespected the national anthem, it would have discouraged other NFL players from following Kaepernick.