NBA Canada Series Returns This October With Two Preseason Games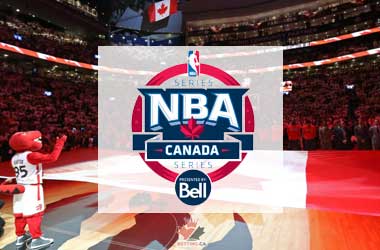 Summary
The Toronto Raptors, Utah Jazz, and the Boston Celtics will take part in the latest series
The two preseason games will take place in October in Edmonton and Montreal
The NBA Canada Series celebrates its 10th anniversary this year
The NBA Canada Series presented is finally returning this year after taking a break in 2020 due to the pandemic. There will be two preseason games scheduled for October, with the Toronto Raptors set to take on the Utah Jazz and the Boston Celtics. 
2022 NBA Canada Series Schedule
The Raptors vs. Jazz match will take place at Rogers Place in Edmonton, AB on October 2. It will be the first time that the Jazz is participating in the series, and also the first NBA game to be held at Rogers Place, a multi-use indoor arena that has a basketball seating capacity of 19,500. 
After that, the Raptors will then head over to Montreal to battle it out with the 2022 NBA Eastern Conference champions Boston Celtics. The Bell Centre will play host to the action on October 14. That will be the second appearance for the Celtics at the NBA Canada Series and also marks their sixth game in Montreal.
Playing for the Raptors are the 2021-22 NBA Rookie of the Year Scottie Barnes, Toronto native Dalano Banton and Khem Birch and Chris Boucher from Quebec. They will play alongside 2019 NBA champion Pascal Siakam. Canadian shooting guard Nickeil Alexander-Walker and NBA All-Star Donovan Mitchell headline the Jazz.
Leading the Celtics are 2021-22 NBA Defensive Player of the Year Marcus Smart, 2020-21 NBA All-Star Jaylen Brown, and three-time NBA All-Star Jayson Tatum. 
The Raptors will get involved in three more road basketball games against the Celtics, Houston Rockets, and the Chicago Bulls.
10th Anniversary Celebrations
The NBA Canada Series started in 2012 with a preseason game between the Raptors and the New York Knicks. This year marks the 10th anniversary of the series which has so far brought together 14 NBA teams in 14 preseason matches held across five Canadian provinces. The series has been attracting huge turnouts among Canadians, with the total attendance estimated at more than 250,000 as well as a huge NBA betting opportunity amongst fans.
Tickets for the 2022 NBA Canada Series will go on sale via Ticketmaster on August 19, but the NBA is offering fans presale ticket access which they can check out here: NBA.com/CanadaSeries. Other sponsors of the series include Nike, Michelob Ultra, Tangerine, and Hennessy (Montreal).
Stay tuned for the latest updates on the series by following the NBA on their social media channels.